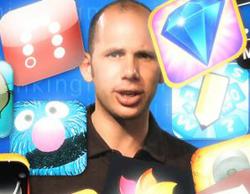 Remember, you are the ultimate Infinite Thinking Machine
Walnut Creek, CA (PRWEB) May 07, 2013
Ramsey Musallam, chemistry teacher and blended learning specialist, joins the list of top influencers in education, such as Sir Ken Robinson and Bill Gates, on TED Talks Education to be aired on PBS today (May 7th, 2013) at 10pm PST (check your local listings). His talk is titled "Curiosity Comes First."
Ramsey Musallam is an accomplished digital educator, utilizing and developing blended learning models for his classroom as well as inspiring teachers nationwide in the use of technology in education. As a Lead Curriculum Developer for the Leading Edge Certification Digital Educator project, which is based on the National Education Technology Plan, Common Core State Standards, and the National Educational Technology Standards for Teachers (NETS-T), Ramsey champions the use of technology-rich learning opportunities in the classroom and beyond.
You can see Ramsey host The Infinite Thinking Machine™, a high-energy Internet TV show that targets K-12 educators, parents and students. The show is produced by Computer-Using Educators (CUE), a nonprofit educational association focused on advancing student achievement through technology. The goal of the show is to inspire creativity and innovation in education.
Ramsey is the Fall CUE 2013 Opening Keynote speaker on Oct. 25 at 4pm, kicking off the "Diving to New Depths with Common Core" conference in Napa Valley, California.
Ramsey Musallam is a chemistry teacher at Sacred Heart Cathedral. Upon receiving his Doctorate in 2010, Ramsey's interests shifted from Multimedia Learning to an emphasis on curiosity and using technology as a strategic classroom partner.