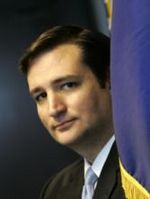 Morgan Lewis offered the perfect combination
Houston (Vocus) May 5, 2008
Morgan Lewis today announced that Texas Solicitor General R. Ted Cruz will join the firm as Partner in the Litigation Practice on May 12, resident in the firm's Houston office. Mr. Cruz — who returns to private practice following a meteoric rise in law and government — will also maintain a presence in the firm's Washington office. Morgan Lewis has more than tripled its Texas presence over the past year. Overall, the firm is home to more than 40 partners who have served as high-level attorneys in government agencies ranging from the U.S. Department of Justice and the IRS to the Treasury Department, Securities & Exchange Commission, Department of Energy, and National Labor Relations Board.
For nearly five and a half years, Mr. Cruz has served as the Solicitor General of Texas. As the chief appellate lawyer for the State of Texas, he has amassed a number of high-profile victories on issues as varied as First Amendment separation of church and state, civil commitment for violent sexual predators, and state sovereignty from World Court decisions. Mr. Cruz has been named by Newsweek magazine as one of 20 young Hispanic Americans on the rise and by American Lawyer magazine as one of the 50 Best Litigators under 45 in America, and was recently hailed as a "rising star" in the Wall Street Journal.
"Ted, whose record of success speaks for itself, has earned a reputation as one of the nation's premier U.S. Supreme Court advocates," said Morgan Lewis Chair Francis M. Milone. "We are thrilled to welcome him to the firm to help build and lead our national appellate practice."
The son of a Cuban immigrant, Mr. Cruz was the first Hispanic Solicitor General in Texas and, when appointed, was the youngest Solicitor General in the United States. He has authored more than 70 U.S. Supreme Court briefs and presented 31 oral arguments, including eight in the U.S. Supreme Court. For four consecutive years, Mr. Cruz won the Best Brief Award from the National Association of Attorneys General (NAAG), for U.S. Supreme Court briefs authored in 2003, 2004, 2005, and 2006. As a litigator, he has amassed a lifetime record in decided cases that he has argued of 23 wins and 4 losses.
At Morgan Lewis, Mr. Cruz will help lead the effort to build the firm's U.S. Supreme Court and national appellate practice, as he lends his talents to the firm's clients in high-stakes commercial litigation. He joins a litigation team that spans 18 offices worldwide and comprises more than 700 litigators covering a full spectrum of industries. In particular, Mr. Cruz's Supreme Court experience will further strengthen the firm's Appeals and Special Issues Practice, whose attorneys already represent clients at all stages of the trial and appeals process across the United States.
"Morgan Lewis offered the perfect combination," noted Cruz. "It is a venerable firm with a global reputation that has shown a deep commitment to growth in Texas, and it presents an unparalleled opportunity to help build a top-tier national appellate practice."
Since January of last year, the number of Morgan Lewis attorneys in Texas has grown from 18 to 61. In Houston — a market seen as pivotal in reaching key industries such as energy, oil and gas, mining, transportation, technology and telecommunications, construction, and manufacturing — the firm has added more than 20 attorneys in the past four months alone.
"Ted's reputation — not just as the person who has argued more cases before the U.S. Supreme Court than any other lawyer in Texas, but as a lawyer's lawyer — will be a tremendous addition to our growing team," added Brady Edwards, Managing Partner of the firm's Houston office.
Since 2004, Mr. Cruz has also served as an Adjunct Professor of Law at the University of Texas School of Law, where he teaches U.S. Supreme Court Litigation.
Before being appointed Solicitor General, Mr. Cruz previously served as the Director of the Office of Policy Planning for the Federal Trade Commission, as Associate Deputy Attorney General at the U.S. Department of Justice, as Department of Justice Coordinator for the Bush Transition Team, and as Domestic Policy Advisor to President George W. Bush on the Bush-Cheney 2000 campaign.
A graduate of Princeton University and Harvard Law School, Mr. Cruz served as a law clerk to Judge J. Michael Luttig on the U.S. Court of Appeals for the Fourth Circuit, and to the late Chief Justice William H. Rehnquist on the Supreme Court of the United States. He is the only Hispanic in history to have clerked for the Chief Justice of the United States.
About Morgan, Lewis & Bockius LLP
Morgan Lewis is an international law firm with more than 1,400 lawyers in 22 offices located in Beijing, Boston, Brussels, Chicago, Dallas, Frankfurt, Harrisburg, Houston, Irvine, London, Los Angeles, Miami, Minneapolis, New York, Palo Alto, Paris, Philadelphia, Pittsburgh, Princeton, San Francisco, Tokyo, and Washington, D.C. For more information about Morgan Lewis, please visit http://www.morganlewis.com .
Contact:
Frances Marine
Public Relations Manager
215.963.5835
fmarine@morganlewis.com
Brady Edwards
Managing Partner, Houston Office
713.890.5110
bedwards@morganlewis.com
Erin Powers
Powers MediaWorks LLC for Morgan Lewis
201.703.6000
edp@powersmediaworks.com
James D. Pagliaro
Leader, Firmwide Litigation Practice
215.963.5668
jpagliaro@morganlewis.com
###