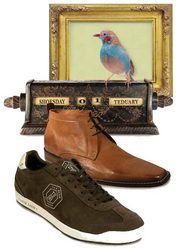 USC carries a wide range of Ted Baker shoes from smart casuals like the Rowtag to sophisticated classics like that Ashcroft
(PRWEB) October 13, 2010
USC and Ted Baker footwear are giving away a year's supply or Ted Baker shoes to one lucky USC customer who will win six pairs from the Autumn / Winter 2010 collection and six pairs from Spring / Summer 2011. USC carries a wide range of Ted Baker shoes from smart casuals like the Rowtag to sophisticated classics like that Ashcroft.
Ted Baker
Ted Baker is one of the fastest-growing leading lifestyle brands in the UK with collections that have expanded rapidly since its beginnings as a menswear brand in Glasgow in 1987. Today Ted Baker offers a wide range of collections including: Menswear, Womenswear, Global, Endurance, Accessories, Fragrance, Skinwear, Footwear, Eyewear and Watches. [Ted Baker is available in the UK, USA, Hong Kong, Singapore and Dubai with continued expansion including Taiwan and Bangkok.
USC
With an 18 year history in retail, USC is a premier destination for branded clothing, shoes and accessories. Catering to fashion savvy men and women throughout the UK, USC is a one stop shop for premium street wear and denim brands. USC prides itself on offering one of the largest collections of jeans in the UK and working with leading brand partners to produce exclusive brand collections each season. There are 35 USC stores nationwide with six flagship stores in Manchester, Glasgow, Edinburgh, Newcastle, Cardiff and the most recent addition Liverpool.
Terms and conditions
By entering into the USC & NOSL Prize Draw organised by USC (the "Prize Draw"), entrants agree to be bound by the following Terms & Conditions:
1. The Prize Draw opens on 1 October 2010 and the closing date for entries is 5pm on 29 October 2010. No entries will be accepted before the opening date or after the closing date. Entrants may enter more than once. Third party or bulk entries will not be accepted, and illegible, altered, corrupted or damaged entries or those not in accordance with these Terms and Conditions are invalid. Proof of transmission shall not be proof of receipt.
2. To enter the Prize Draw, you must fill in your details (name and contact details) on the Prize Draw entry form at http://www.uscextra.co.uk/ted_baker_2010/ (the 'Website') (the 'Entry').
3. There can only be one (1) winner. The prize is comprised of twelve (12) pairs of Ted Baker shoes by NOSL, six (6) pairs of which are to be chosen by the winner from the Men's AW11 collection available at USC and the remaining six (6) pairs to be chosen from the Men's SS11 collection available at USC (the "Prize").
4. The Prize Draw is open to UK residents only. If entrants are under sixteen (16) years they must have consent from a parent/other guardian to both enter the Prize Draw and to provide their contact details to USC. The following are not eligible: the employees of (i) USC and its franchisees, subsidiaries, agents and advisors and their families and (ii) NOSL and its franchises, subsidiaries, agents and advisors and their families, and (iii) any other company, organisation or person assisting or connected with the Prize Draw.
5. The Prize may be altered or varied at USC's sole discretion and substituted with a prize which, in USC' sole opinion is a suitable alternative. Neither USC nor NOSL shall be liable for any claims or complaints of any nature in respect to the Prize, to the fullest extent that this is permitted by law. The Prize is subject to availability. There is no cash alternative and the Prize is not negotiable, transferable or returnable.
6. NO PURCHASE OF ANY KIND IS NECESSARY TO ENTER THIS PRIZE DRAW.
7. The winner will be selected at random by an independent moderator from all eligible entries on 01 November 2010. The moderator's decision is final.
8. The winner will be advised via email or phone by 15 November 2010. If the winner does not respond by 20 November 2010, USC reserves the right to offer the Prize to the next randomly selected eligible entrant and thereafter until a winner has been found. The six (6) pairs of AW11 shoes must be claimed by the winner by [01/10/2010] and the six (6) pairs of SS11 shoes must be claimed by the winner by [01/11/2010].
9. The winner's name and county will be available after the closing date to those sending an email with the subject USC & No Ordinary Shoes Limited Prize Draw to [USC email address].
10. USC reserves the right to withdraw or amend this promotion and these terms and conditions in the event of any unforeseen circumstances outside their reasonable control or if in their absolute discretion, consider it necessary.
11. USC reserves the right to exclude any entries which they believe to be fraudulent or based on misconduct.
12. USC does not accept any responsibility for any network congestion, technical failure or other problem in any telephone line, network, system, provider or otherwise which results in any Entry on the Website not being properly recorded or received.
13. The winners agree to take part in post-Prize Draw publicity at the request of NOSL. By entering the Prize Draw, entrants agree to NOSL's unrestricted use of any post-Prize Draw publicity for NOSL's own purposes in all activities, including, without limitation, marketing and promotional activities worldwide including use on NOSL's websites and social networking platforms. If a winner is under the age of sixteen (16) they will need to be accompanied by a parent or guardian at any publicity or advertising attendance.
14. Any complaints regarding the Prize Draw should be directed to USC at the address set out below.
15. Information regarding personal data provided in the Entry will be processed in a database for the purpose of managing entry into the Prize Draw. The information will not be used for any other purpose than as stated in these Terms and Conditions, or as separately accepted by you. If you have separately agreed to receive communications from USC then your personal data may be used by them for such purposes, including direct marketing. Any personal data that you provide will be held and processed in accordance with the requirements of the 1998 Data Protection Act.
16. These Terms and Conditions are governed and construed in accordance with the laws of England and Wales.
17. The Promoter of this Prize Draw is West coast Capital (USC) Ltd. Of Marathon House, Olympic Business Park, Drybridge Road, Dundonald, Kilmarnock, KA2 9BE.
###