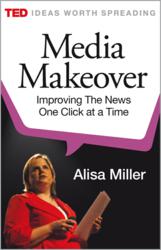 Minneapolis, MN (PRWEB) June 29, 2011
Available now on Amazon Kindle and Kindle reader apps, 'Media Makeover: Improving The News One Click at a Time' is the newest installment of TED Books.
Jim Daly, TED Books Editor says, "Alisa Miller, media and technology leader and CEO of Public Radio International, urges us to be aware and take control of the news if we want a more accurate picture of the world. After reading Media Makeover you will never consume or think about the news the same way again. Media Makeover is a must-read for anyone who wants to be better informed."
Media Makeover is an entertaining and informative bird's eye view of how "news" is made, what is missing from our news diets, why certain types of content are harder to come by, the implications for our society, and perhaps most importantly, what can be done about it. The book builds on Miller's popular TEDTalk, "How News Shapes our World" and has been viewed hundreds of thousands of times and translated into 41 languages.
Miller says, "Whether its coverage of former Representative Anthony Weiner or the next sensational news story, it's reassuring to see that reputable research tells us that the public got it right – we had much less interest in the Weiner story than the news media did." Miller continues, "the American people intuitively know there is something amiss in the news agenda but have not quite been able to put their finger on the scope of the problem or what can be done about it."
Media Makeover is the start of an ongoing conversation about how each of us can make small changes to become better informed. At mediamakeover.org, Miller, book readers and the broader public will be collecting data, the best ideas, tools, services and sources through conversation and posts.
Shorter than traditional books, TED Books is an imprint of short nonfiction works designed for digital distribution. TED Books run less than 20,000 words each -- long enough to explain a powerful idea, but short enough to be read in a single sitting.
To purchase Media Makeover by Alisa Miller for Amazon Kindle, click here.
About the Author
Alisa Miller is a respected leader, innovator and visionary in media and technology. She is President and CEO of Public Radio International, blogger, author, and speaker. She is the first woman to head a public radio network, was recently named one of the Most Influential Women in Technology by Fast Company magazine and is a member of the Council on Foreign Relations.
###