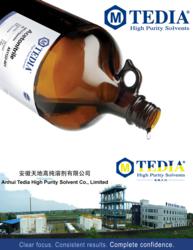 100% Focus

100% Confidence
(PRWEB) December 05, 2011
Tedia Company, Inc., of Fairfield, OH, the largest producer of OEM high-purity solvents in North America, has entered into a joint venture with a Chinese firm to operate the largest high-purity solvents manufacturing plant in Asia.Tedia is the first international company to invest directly in a high-purity solvents manufacturing facility in China.
Tedia will introduce more efficient, less costly production and distribution methods that should significantly increase the plant's annual output of purified Acetonitrile, an essential solvent used worldwide for instrumental analysis and pharmaceuticals. As production processes are refined, the plant will move into production of higher grade solvents used in HPLC and GC/MS analysis.
Located in Anhui Province, the plant is a joint venture between Tedia and Longhua Fine Chemical Co. Ltd. with Tedia holding the dominant 55/45 share percentage. The plant was started in 2009 with significant production capacity for preparative chromatography solvents. Tedia, which has sold its products in China since 1997, will bring its proprietary solvent manufacturing system, known as T²P², to the plant and expects its production enhancements to achieve an annual capacity of at least 4,000 tons of purified Acetonitrile.
The joint venture—officially named Anhui Tedia High Purity Solvents Co. Ltd.-- was announced at an October press conference at the Beijing Exhibition Center during the BCEIA 2011 trade show. Chris Dendy, Tedia's global sales and marketing director, said the plant is a critical part of Tedia's global development strategy to be the leading brand of high purity solvents in Asia and worldwide and to be a world-class manufacturing base for purified Acetonitrile.
"Tedia has a well-established core value to our customers through our ongoing marketing and branding efforts," Dendy said. "Our strategy in the Chinese market is focused on offering high-purity solvents for the laboratory analysis market and other specific manufacturing industries.
"We will heavily invest our technology into this plant to improve the distribution channels, save process time and offer the latest products and quick response to domestic demand. These improvements will combine to ensure delivery of the best quality high purity solvents to customers in China and the Asia market."
Wu Weilong, a co-founder and main shareholder of Longhua Fine Chemical Co. and general manager of the plant, also spoke at the press conference. Others present included Zhang Zhizhong, Tedia's Asia sales manager, and Zhang Yukui, a professor at Dalian Chemistry-Physics Research Institute, who discussed the plant's economic importance.
Tedia (http://www.tedia.com), founded in 1975, is the largest manufacturer of OEM high-purity solvents in North America and sells its products in more than 30 countries. In 1997, the company entered an agreement with Shanghai Weston Co., Ltd., to distribute its products in China and became one of the major brands in the Chinese solvent market. In 2009, Tedia opened a representative office in Shanghai.
Longhua Fine Chemical Co. Ltd. was founded in 2009 and has sold mainly through OEM rather than direct sales under the Longhua brand name.
# # #