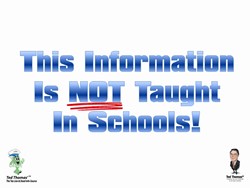 Blog posts are faster to produce for clients to get the latest information.
(PRWEB) August 05, 2013
TedThomas.com is the premier source of information on tax lien certificate and tax deed investing. When new investors want information on where to buy tax lien certificates online, they consult the extensive blog posts at the site.
"You would be amazed how little information is available on where to buy tax lien certificates online," Mr. Thomas said. "This is one of the safest, highest-return investments available on the market today. Yet, no educator but us is teaching the information properly. That's why I started the blog long ago. My students were clamoring for regularly updated data on the topic. For example, recently my posts have included 'The Gold Awaits You With Tax Lien Certificates,' 'Bidding To Win in Different Tax Lien States,' and 'Tax Lien Investing Secret: The Tax Collector Can Be Your Friend.' Nowhere else can you find these topics, and no one else goes as deep into the information as we do."
"The basic premise of tax lien investing is actually really simple," Mr. Thomas said. "The trick is to stay on top of all the details. Different towns and counties have their own quirks and procedures. You must be familiar with these steps to be successful. We show our students how to stay organized. Our material includes checklists, manual, guides, and more. We have everything a new investor in tax lien investing needs to get started, and stay on track. The blog is a great way to provide our students with current information that is taking place in the market today. We keep track of local and national trends, and report them on a regular basis."
Mr. Thomas likes writing the blog because he can post new entries quickly. Videos are powerful, and audio podcasts are convenient. However, blog posts are faster to produce. He likes being able to respond to new information and trends in the marketplace. Each blog post is written so that regular investors can take advantage of the information. Complicated financial terms are discarded in favor of plain English that helps investors meet their goals. In addition, the blog points to other, more extensive resources on the site that help investors learn more about a particular topic. Click here to learn more.
About Ted Thomas
Ted Thomas is widely recognized as "America's Tax Authority." Thousands of regular investors log on to his site and read his blog every day. They want to learn inside tips like how to buy tax certificates online. As a master educator, Mr. Thomas leads them through the process with easy-to-understand information. Interested investors can log on to TedThomas.com for the blog and other investing resources.