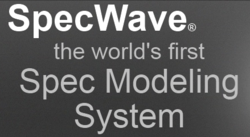 Managers are eager to apply an information modeling rigor to their engineering specifications and a spec-driven process to asset lifecycles -- especially given the profound and recurring benefits of fewer errors and rework, on-time and on-budget delivery
Miami, FL (PRWEB) March 29, 2012
2012 Fiatech Technology Conference and Showcase: "Innovation that Builds the World" – TEEC, The Engineering Essentials Company, announced that it will be showcasing its innovative SpecWave® engineering specification modeling product here this week at Fiatech. Born out of research by industry consortia, SpecWave is the world's first spec modeling system for engineering projects and operations, announced just two weeks ago.
CEO Leon Gorbaty comments, "The reception from the engineering community has been uniformly positive and we're very excited about the opportunity to add significant value. Managers are certainly open, even eager, to apply an information modeling rigor to their engineering specifications and a spec-driven process to asset lifecycles -- especially given the profound and recurring benefits of fewer errors and rework, on-time and on-budget delivery, and higher performing assets."
SpecWave demonstrations will be available at the TEEC booth at the Fiatech Technology Showcase. CH2M HILL Engineers and Constructors will also present a paper entitled "Combining Related Specifications to Create a Consolidated Specification Library" at the conference breakout session on Monday at 4:00pm. Meeting times with TEEC are available by emailing deb(dot)roy(at)teecspecs(dot)com.
Learn more at http://www.teecspecs.com.