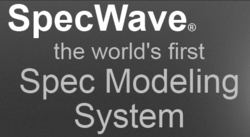 Bentley invested in TEEC because we felt that the critical domain of specifications was ripe for an upgrade to an information modeling rigor and that TEEC possessed the technology and people to enable spec-driven processes for the industry
Philadelphia, PA (PRWEB) March 13, 2012
TEEC, The Engineering Essentials Company, today announced the release of SpecWave® 2012, the world's first spec modeling system. A Bentley-funded company and born out of research sponsored by Fiatech, TEEC and its SpecWave technology help architectural and engineering firms speed and improve:

Master spec clean-up and ongoing management
Project spec production
Multi-purpose publishing to spec end-users
Change management to specs in the field, and
Update and re-use of lessons learned and field improvements into master specs.
Leon Gorbaty, founder and CEO of TEEC, comments, "Engineering firms tell us they want to apply more information modeling technology to specifications. In the same way that CAD brought profound benefits to design, spec modeling will lead to fewer errors and rework, on-time and on-budget delivery, and higher performing assets – on a recurring basis."
Keith Bentley, co-founder and CTO of Bentley Systems, Inc., adds, "Bentley invested in TEEC because we felt that the critical domain of specifications was ripe for an upgrade to an information modeling rigor and that TEEC possessed the technology and people to enable spec-driven processes for the industry."
Specifications are the instruction set for creating the engineered asset – they are typically complex and composite, come from multiple sources, must serve global teams, must be published for multiple purposes, and undergo massive change. Despite their critical nature and this demanding environment, specifications are typically housed in loosely connected or scattered documents. As a result, processes become spec-ambiguous and error prone. In turn, projects suffer avoidable errors and mistakes, missed deadlines, field retrofits and rework, and cost overruns.
Gorbaty continues, "Simply put, a spec-driven process means full awareness and compliance to the spec at every stage of the asset lifecycle. SpecWave enables a spec-driven process across the asset lifecycle -- in design, procurement, verification, documentation, inspection, installation, and through to operations. And, its richer word processor-like user interface makes migration easy. "
For engineering firms, the opportunity of a spec-driven process is immediate and strategic: specs become more reliable, people more productive, requirements more interoperable, processes higher quality, projects more agile, collaborations more fluid, enterprises more successful, and assets higher performing.
SpecWave offers a complete spec modeling system, with modules for: multi-sourced and interoperable specs, multi-purpose publishing, master library management, rules enforcement, rich editing, querying, revision management, approval administration, migration, and IT integration. It offers rich usability and functionality for all members of the spec community, including: managers of standards and master specs, architects, engineers, project managers, inspectors, constructors, purchasers, manufacturers, regulators, and IT management.
Mr. Gorbaty, also the project lead on the Fiatech "Specification Automation" standard setting project, is available for SpecWave Discovery Sessions. To schedule this 30-minute webinar and discover how SpecWave can benefit your organization, please visit SpecWave Discovery Session Registration page of our website.