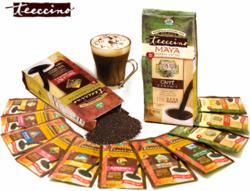 "Teeccino is naturally caffeine free as opposed to decaf coffee, which has been processed in order to remove most but not all of the caffeine." -Caroline MacDougall
Santa Barbara, CA (PRWEB) May 30, 2012
Teeccino Herbal Coffee was recently featured on a national TV show as the perfect solution for "too much caffeine". When a guest in the audience complained that she was addicted to caffeine, a well-known doctor recommended she drink Teeccino when she's had too much caffeine.
Many people drink coffee cup after coffee cup in an attempt to increase their energy from another hit of caffeine. Instead of feeling more energized, they start to experience energy crashes and find they can't get off the caffeine roller coaster.
The well-known "coffee jitters" are only one of the many symptoms people experience from too much caffeine. Other symptoms include rapid heartbeat, anxiety and/or irritability, sweaty palms, fatigue, restlessness and insomnia. Less well-known effects of caffeine include muscular pain and tension in the back and/or neck, skin rashes including psoriasis, and even obsessive-compulsive behaviors.
Too much caffeine can also trigger acid reflux, better known as heartburn. Caffeine lowers the pressure on the esophageal sphincter, allowing food to come back up into the esophagus, which causes uncomfortable burning sensations in the chest and throat. Like regular coffee, decaf coffee can also trigger heartburn because it is made from highly acidic coffee beans. Teeccino is non-acidic and the natural potassium from Teeccino's ingredients helps alkalize the body, making Teeccino a perfect choice for people who suffer from acidity.
People can quit or cut back on caffeine painlessly. Teeccino was selected as the best coffee alternative for people who are drinking too many cups of coffee because it can be brewed just like coffee and has the full-bodied, roasted flavor of coffee. Teeccino's creator, Caroline MacDougall, explains "Teeccino is naturally caffeine-free as opposed to decaf coffee, which has been processed in order to remove most but not all of the caffeine. We were thrilled to have Teeccino recommended by a famous doctor on national television."
The doctor also recommended Teeccino because it provides an energy boost from pinitol, a natural compound found in carob, one of Teeccino's herbal ingredients, that reduces insulin resistance and helps re-energize the body. Instead of depending on caffeine for a quick jolt, Teeccino can provide a natural boost of steady, sustained energy.
Next time someone is experiencing the effects of too much caffeine, recommend they enjoy a cup of Teeccino Herbal Coffee, the best selling coffee alternative in America. Nine flavors of Teeccino are available in natural and specialty grocery stores throughout the country. In total, eighteen flavors are available on our website. An 11 oz bag of the all-purpose filter grind retails for $9.99. Teeccino is also available in convenient, single-serve Tee-bags® that can be steeped just like tea. A 10-count box retails for $4.99. For more information, visit us online at http://www.teeccino.com.
About Teeccino Herbal Coffee
Teeccino Herbal Coffees are the top selling coffee alternative brand in the US. Teeccino comes in popular flavors like Vanilla Nut, Mocha, Hazelnut, Chocolate, French Roast and Java. It is distributed nationwide in natural food and specialty grocery stores. For more information about Teeccino, images, or samples, please contact Danielle Edberg at 800-398-3434, by email at danielle(at)teeccino(dot)com.