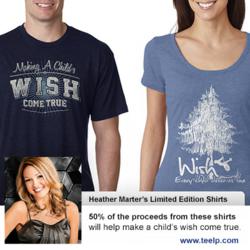 Every child deserves a wish
(PRWEB) February 15, 2013
Heather Marter had spent most of her adolescence living through her little brother's struggle with brain cancer. Shortly after he was diagnosed with a brain tumor at the age of 3, the Sunshine Foundation granted his wish of going to Disney World! That wish is a memory that Heather has never forgotten, and now wants to pay it forward by helping make another child's wish come true.
Heather joined the entertainment industry in 2011 on one of MTV's most popular series, the Real World. She quickly became everyone's fan favorite on the show with her larger than life personality. Now that Heather has formed a name for herself she hopes to be able to give back to the Sunshine Foundation, the same organization who answered her little brother's dream in 1995.
Heather has designed two charitable t-shirts to raise donations for the Sunshine Foundation. Proceeds from her special edition t-shirts will help answer the dreams of a chronically ill, seriously ill or a physically challenged child whose family cannot fulfill their child's request due to the financial strain their illness may have caused.
Her t-shirts can be found at Teelp.com. These shirts will only be available until this Sunday, Feb 17th. Anyone can help Heather reach her donation goal by purchasing one of her charitable t-shirt designs. Pledge your support for free by leaving a comment for Heather on Teelp.com or by sharing her story with friends and family.
Teelp.com, Tees That Help, works with a different supporter each week to design their own special edition t-shirt to raise donations for their favorite charity. A supporter is a celebrity, company or passionate individual that wants to spread awareness and publicly support a charity near and dear to their heart.