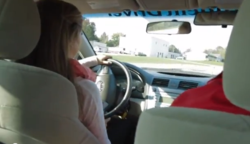 We are... helping parents raise the healthiest and safest teens possible.
Beachwood, OH (PRWEB) November 30, 2012
Parents can gain insights about teen driving by viewing video excerpts of "Raising a Safe Driver," a recent panel discussion presented by Your Teen magazine, sponsored by State Farm.
Driving experts sat down to discuss their advice for parents who are teaching their teens to drive.
The panel was held on Oct. 23 in conjunction with a parent expo sponsored by BMW Cleveland prior to the panel.
Panel moderator Terry Moir, program director for WKYC, introduced Scott Robertson, HR director and teen instructor at Drive Team, and Anne Marie Hayes, author of 3 Keys to Keeping Your Teen Alive, who shared their views on important parenting tips for raising a safe and responsible teen driver.
View video highlights here:
http://yourteenmag.com/2012/11/video-teen-driving-experts-advice-for-parents
Teen Magazine provides a variety of helpful articles and Q&A sessions on its website to help parents make safety the number one priority for teen drivers.
"We are dedicated to helping parents raise the healthiest and safest teens possible," Editor-In-Chief/Publisher Susan Borison says. "We provide parents the resources they can use to feel more confident when they put their teens behind the wheel."
About Your Teen Magazine for Parents:
http://yourteenmag.com
Your Teen addresses the challenges inherent in raising teens and helps parents to continue the journey toward the goal of successful parenting. In the magazine format, parents can pose questions, offer personal tactics and hear the different perspectives of professionals, other parents, and teenagers on relevant topics. Your Teen hopes to ease the worry.
Your Teen is available in Barnes & Noble.