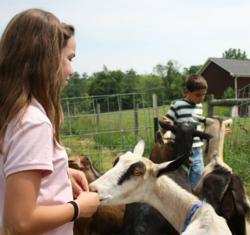 Many people choose affordably priced Goat Milk Stuff Gift Packs
New York (PRWEB) November 20, 2012
Teen Kids News reported the 8 Jonas children, ages 5 to 15, help their parents build a thriving family business, making goat milk soaps, lotions and more on their Indiana goat farm with tasks ranging from milking goats to helping in the office.
Products made by the Jonas family are marketed online at GoatMilkStuff.com.
The leading TV news show for teens and children, Teen Kids News focused on Brett, 15, and Colter, 13, and Emery, 12, and how they set a great example for their 5 younger brothers and sisters, as all participate in age-appropriate ways to help their family business.
The half-hour weekly news program reported a "secret to help the Jonas kids become soap stars is that everyone has to pitch in."
In addition to the variety of goat milk soaps, many people choose affordably priced Goat Milk Stuff Gift Packs, with combinations of products such as soap, lotion, lip balm and more.
The news show reported about the Jonas 8 and their daily jobs. The children are homeschooled by Mom PJ, a former engineer, and Dad Jim, a former science teacher.
Teen Kids News is seen on more than 220 TV stations and in 8,000 schools and by the Armed Forces Network and posts each episode at http://www.TeenKidsNews.com.
Brett Jonas, the oldest, said she is "extremely proud of my parents and my family. We work so hard to get to where we are." She added, "you have to work with your siblings all the time and you don't get a break from them, and that can get really annoying."
Her teenage brother Colter said his friends often want to the family goat farm and "we all have a lot of fun. The goats are really a part of our family. Sometimes I will even get up as early as 6 o'clock to milk them."
Pre-teen Emery added that living and working on a farm is fun. "You get to do a lot of cool things that most kids don't get to do."
To teach her children responsibility and to give them a sense of participating in the family's success, Mom PJ explained her "youngest person rule," which she said "means that the youngest person capable of doing a job is the one who does it." Even youngest, Jade, helps by doing her chores in the family business. PJ says it is important that each of the Jonas children have a sense of accomplishment in building the family business.
Goat Milk Stuff offers a variety of chemical-free and all-natural goat milk soaps, lotions, bath bombs, lip balms, lotions and laundry soap, as well as all-natural soy candles in a number of scents, each made by the Jonas family and available at GoatMilkStuff.com.
The Jonas business maintains an active social media presence with a growing following on Facebook at http://www.Facebook.com/GoatMilkStuff, YouTube at YouTube.com/GoatMIlkStuff and on Twitter at Twitter.com/GoatMilkStuff.
Online at http://www.GoatMilkStuff.com, the Scottsburg, Indiana company and makes and markets all-natural Goat Milk Stuff™ products including goat milk soaps, lip balms, lotions, bath bombs, laundry soap, soy candles and more. For media, contact Brian Dobson at DobsonPR.com or BD (at) DobsonPR.com.