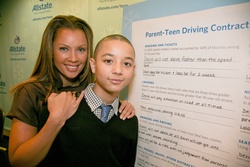 The safe driving talk, backed up by signing an Allstate Parent-Teen Driving Contract, shows a commitment to family this holiday season. Through this contract, parents and teens say to one another that they aren't going to let themselves become tragic statistics
NORTHBROOK, Ill. (PRWEB) December 3, 2008
The Allstate Holiday Teen Driving Hotspots Study found that the 10 deadliest hotspots for fatal teen crashes among the nation's 50 largest metro areas (a central city and its surrounding counties) from Thanksgiving through New Year's Day are:
        1. Tampa-St. Petersburg-Clearwater, FL 2. Jacksonville, FL 3. Orlando-Kissimmee, FL 4. Kansas City, MO-KS 5. Birmingham-Hoover, AL 6. Phoenix-Mesa-Scottsdale, AZ 7. Las Vegas-Paradise, NV 8. Oklahoma City, OK 9. Louisville, KY-IN 10. Richmond, VA The study also revealed that over the past eight holiday seasons, teen drivers nationwide have been involved in more than 5,000 fatal crashes between Thanksgiving and New Year's Day. Salt Lake City, however, topped the list of safest cities for fatal teen crashes, having experienced just four fatal crashes involving teen drivers during the holidays over the past eight years.
The cities that ranked safest for fatal teen crashes between Thanksgiving and New Year's Day are:
        1. Salt Lake City, UT 2. San Francisco-Oakland-Fremont, CA 3. Cleveland-Elyria-Mentor, OH 4. Portland-Vancouver-Beaverton, OR-WA 5. Milwaukee-Waukesha-West Allis, WI 6. New York-Northern New Jersey-Long Island, NY-NJ-PA 7. San Jose-Sunnyvale-Santa Clara, CA 8. Boston-Cambridge-Quincy, MA-NH 9. Detroit-Warren-Livonia, MI 10. Los Angeles-Long Beach-Santa Ana, CA The study examines recent federal crash statistics, Allstate claims data on teen collisions, and U.S. Census Bureau statistics to score metro areas across the nation on rates of fatal crashes involving teen drivers during the holidays. The study was conducted by Allstate in conjunction with Sperling's BestPlaces (http://www.bestplaces.net), a Portland, Ore., research firm specializing in demographic studies and analysis.
Today's release of study findings by Allstate continues the company's national Home For The Holidays public awareness and policy campaign, which also calls for a national federal standard for graduated driver licensing (GDL) laws and urges Congress to enact the Safe Teen and Novice Driver Uniform Protection (STANDUP) Act.
However, the focus of the campaign is to encourage parents to have the safe driving talk with their teens this holiday season, as motor vehicle crashes are the No. 1 killer of American teens. The perfect way to help make that conversation happen is by using the Allstate Parent-Teen Driving Contract, which helps families lay out expectations for smart driving decisions and consequences if those expectations are not met.
It's the most important gift a parent and teen can give one another this holiday season. It's a conversation and a promise. And best of all, it's free.
Through its national Parent-Teen Driving Contract Sign-Up Drive, Allstate encourages parents and teens to download the contract from http://www.allstate.com/teen and discuss the importance of safe driving. By signing the contract, parents can help ensure their teens return home safely this holiday season and all year long.
"The safe driving talk, backed up by signing an Allstate Parent-Teen Driving Contract, shows a commitment to family this holiday season. Through this contract, parents and teens say to one another that they aren't going to let themselves become tragic statistics," said Vicky Dinges, Assistant Vice President of Public Social Responsibility for Allstate.
As part of the campaign, actress Vanessa Williams of ABC's "Ugly Betty" and her teenage son, Devin, signed their Allstate Parent-Teen Driving Contract in New York City on December 2. With Devin on the verge of getting his learner's permit, Ms. Williams and Devin are giving each other the most important gift of all this holiday season – the safe driving talk.
Media may download broadcast-quality event video, interviews and still pictures at http://www.thenewsmarket.com/allstate. Consumers may watch event videos at http://www.youtube.com/allstate.
Research conducted by the National Institute of Child Health and Human Development indicates intervention materials, including parent-teen driving agreements, increase parental restriction of high-risk teen driving conditions among newly licensed drivers.
Allstate also urges state lawmakers to enact stronger state-level GDL laws that allow novice drivers to gain driving experience gradually and under low-risk situations. An effective tool for saving lives, GDL laws typically involve longer periods of supervised driving, restrictions on late-night driving, limits on teen passengers and cell phone bans for drivers.
A more detailed breakdown on the study results – including other market and state comparisons – can be found at http://media.allstate.com/. Click on press kits located on the left.
About Allstate
The Allstate Corporation (NYSE: ALL) is the nation's largest publicly held personal lines insurer. Widely known through the "You're In Good Hands With Allstate®" slogan, Allstate helps individuals in approximately 17 million households protect what they have today and better prepare for tomorrow through approximately 14,900 exclusive agencies and financial representatives in the U.S. and Canada. Customers can access Allstate products and services such as auto insurance and homeowners insurance through Allstate agencies, or in select states at allstate.com and 1-800-Allstate®. Encompass® and Deerbrook® Insurance brand property and casualty products are sold exclusively through independent agents. The Allstate Financial Group provides life insurance, supplemental accident and health insurance, annuity, banking and retirement products designed for individual, institutional and worksite customers that are distributed through Allstate agencies, independent agencies, financial institutions and broker-dealers.
MULTIMEDIA GALLERY http://www.businesswire.com/cgi-bin/mmg.cgi?eid=5844702