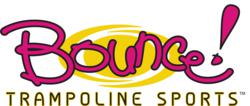 We're proud that this program fits in with Michelle Obama's 'Let's Move' campaign to help kids get in shape and feel great.
New York Metro (PRWEB) July 25, 2012
Starting this fall, kids in Rockland, Westchester and Bergen counties will have a chance to get fit and healthy by participating in a unique pilot program sponsored by Bounce! Trampoline Sports, well known New York area sports nutritionist Dr. Michael Wald, and the Rockland Farm Alliance.
The pilot program will involve 25 kids ages 12 – 15 who care about their own fitness and want to develop a program that will help other kids in the future. The program will run for eight weeks and involve exciting trampoline based activities and games, workshops on creating fun and healthy snacks, and feedback sessions on what the kids like and want to adjust going forward.
"We are very excited about our new Get Fit & Feel Great Program. We developed the idea when several parents said, 'Bounce! is so much fun, my kids don't know its exercise!' We're proud that it fits in with Michelle Obama's "Let's Move" campaign and we believe this program could change the way these kids think about themselves for a lifetime," stated Danny Fried, co-owner of Bounce! located in Valley Cottage.
Head Fitness Trainer at Bounce! Trampoline Sports and former acrobat performer Victor Byrne, will lead each class, developing new activities and programs based on the feedback from the participants. Byrne, who oversees all classes and gymnastics training at Bounce!, is also director of the VBAD Stars where he trains some of New York State's best young diving champions at the world class facilities at SUNY Purchase in Westchester.
Teens will meet one on one with Dr. Michael Wald, Director of Nutritional Services at Integrated Medicine of Mount Kisco,to talk about their goals and weigh in, and then the focus will shift to having fun and finding activities that kids enjoy as well as how to make healthier food choices. "It is so important for kids to know that what they take into their bodies effects the way they move, think and interact throughout the day. Regardless of whether they play competitive sports or just want to throw a ball around with friends, we want to change their mindset about living a healthy lifestyle," states Dr. Wald who has been helping kids eat right and stay healthy for over 20 years.
The Rockland Farm Alliance, based at Cropsey Farm in New City New York, will provide organic and locally grown vegetables for the kids to sample so they can try new foods grown right in the county and see the difference it can make when something is picked fresh and grown without harmful chemicals. A trip to the Farm is also planned during the program to talk about how caring for the earth affects the foods we eat.
The class will meet three times a week for one hour beginning mid September and run for eight weeks. The children in the program will set their own goals and monitor their progress and provide feedback on what is working for them and what they might recommend for other kids for future programs. At the end of the eight weeks they will be able to evaluate their own progress and see how well they did. The fee for the pilot program is only $195 and registration will begin August 1st. A kickoff event is planned for September; check the Bounce website (http://www.bounceonit.com) for details and information.
Bounce! Trampoline Sports is a 25,000 square foot facility offering all ages the opportunity to play sports, have fun and get fit on enormous courts of interconnected trampolines. They offer aerobics and acrobat classes, Bounce! Boot Camp, pick up dodgeball games and league play, slam dunk basketball, and gymnastics and tumbling training. The second Bounce! facility will open in Syosset, New York in the fall of 2012. For more details visit their website at http://www.bounceonit.com. Bounce! Trampoline Sports is located at 612 Corporate Way in Valley Cottage off Route 303, just two miles north of the Palisades Center Mall. For questions call 845-268-4000.
# # #
DR. MICHAEL B. WALD BACKGROUND:
During his 22-years of professional practice, Dr. Michael B. Wald, Director of Nutritional Services at Integrated Medicine of Mount Kisco, has helped improve the health and quality of life of children and adults alike through dietary and other forms of improved nutrition. He has published over a dozen books on the topics of natural health, writes a regular health column for the Westchester Examiner and Baby Boomers Magazine, is a regular feature on Channel 12 News and lectures across the United States and internationally. Dr. Wald's new book, The Blood Detective's Guide to Longevity & Weight Loss will be published in 2013.
Dr. Wald is the founder and president of the Integrated Medicine & Nutrition Institute; he is double-board certified in nutrition; is a certified dietician-nutritionist (CDN); a certified nutritional specialist (CNS); a certified clinical nutritionist (CCN); he holds a postgraduate degree in chiropractic (DC) from the Los Angeles College of Chiropractic; a PhD from the Holistic College of Nutrition; a masters degree (MS) from the University of Bridgeport; a naturopathic degree (ND) from the Clayton School of Natural Healing; he earned an MD degree from the University of Health Sciences School of Medicine, Antigua; and was past Director of Education for the International & American Association of Clinical Nutritionists (IAACN).
ROCKLAND FARM ALLIANCE BACKGROUND:
Rockland Farm Alliance, under a licensing agreement with Rockland County and the Town of Clarkstown, has launched Rockland's first community farm in New City, at the retired Cropsey farm on Little Tor Road. RFA is initially developing 5 acres of the property; the project consists of 2 core components: a working, revenue-producing farm, and an education/demonstration area. The working farm focuses on crop production to support a Community Supported Agriculture (CSA) program, and plans to dedicate a small portion of acreage to growing specialty crops for schools. Their goal is to inspire positive change by raising public awareness of the profound importance of developing a sustainable local food system and is supported in partnership with the Cornell Cooperative Extension.
In addition, a group of dedicated volunteers works throughout the year planning and executing local events that educate and bring awareness to the local community about organic and sustainable farming practices, sustainable living practices, and localization of food and business. We bring films, speakers and events to the area, many of which are free to the public.
###