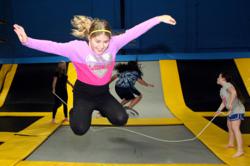 This groundbreaking teen fitness program has already made a significant difference in the health of the first 20 kids.
Valley Cottage, NY (PRWEB) December 21, 2012
Starting in January 2013, kids in Rockland, Westchester and Bergen counties will have a chance to get fit and healthy by participating in a program sponsored by Bounce! Trampoline Sports and well known New York area sports nutritionist Dr. Michael Wald.
The groundbreaking program will involve 20 kids ages 11 – 16 who want to improve their own fitness, eating habits, and overall good health. The program will run for eight weeks and involve fun trampoline based activities and games, workshops on creating fun and healthy snacks, and tasting of locally grown, organic food.
"Our first pilot program was an enormous success! Both the kids and the parents had nothing but good things to say and many are returning for the second session. We developed the idea when several parents said, 'Bounce! is so much fun, my kids don't know it's exercise!' And we're proud that it ties in with Michelle Obama's 'Let's Move' campaign. Based on the initial feedback, we believe this program could change the way these kids think about themselves for a lifetime," stated Danny Fried, co-owner of Bounce! located in Valley Cottage.
Head Fitness Trainer at Bounce! Trampoline Sports and former professional acrobat Victor Byrne, leads each class and has developed unique activities such as long jump into the foam pit, slam dunk basketball contests, jumping rope on the trampoline and even working with hoola hoops on the trampoline.
During the program Dr. Michael Wald, Director of Nutritional Services at Integrated Medicine of Mount Kisco, will meet with parents and kids in a series of workshops to talk about changing eating habits and maintaining a healthy lifestyle. Parents who children are not enrolled in the program are also welcome to attend these sessions.
"It is so important for kids to know that what they take into their bodies effects the way they move, think and interact throughout the day. Regardless of whether they play competitive sports or just want to throw a ball around with friends, we want to change their mindset about living a healthy lifestyle," states Dr. Wald who has been helping kids eat right and stay healthy for over 20 years.
The class will meet three times a week for one hour beginning January 14th 2013 and run for eight weeks. The children in the program will set their own goals and monitor their progress and provide feedback on what is working for them and what they might recommend for other kids for future programs. At the end of the eight weeks they will be able to evaluate their own progress and see how well they did. For additional details and information check the Bounce website (http://www.bounceonit.com). The cost of the program is $360 and includes free bounce time for the participants at any time during the 8 week program.
Bounce! Trampoline Sports is a 25,000 square foot facility offering all ages the opportunity to play sports, have fun and get fit on enormous courts of interconnected trampolines. They offer aerobics and acrobat classes, Bounce! Boot Camp, pick up dodgeball games and league play, slam dunk basketball, and gymnastics and tumbling training. For more details visit their website at http://www.bounceonit.com. Bounce! Trampoline Sports is located at 612 Corporate Way in Valley Cottage off Route 303, just two miles north of the Palisades Center Mall. For questions call 845-268-4000 or send an email to info(at)bounceonit.com.
# # #
DR. MICHAEL B. WALD BACKGROUND:
During his 22-years of professional practice, Dr. Michael B. Wald, Director of Nutritional Services at Integrated Medicine of Mount Kisco, has helped improve the health and quality of life of children and adults alike through dietary and other forms of improved nutrition. He has published over a dozen books on the topics of natural health, writes a regular health column for the Westchester Examiner and Baby Boomers Magazine, is a regular feature on Channel 12 News and lectures across the United States and internationally. Dr. Wald's new book, The Blood Detective's Guide to Longevity & Weight Loss will be published in 2013.
Dr. Wald is the founder and president of the Integrated Medicine & Nutrition Institute; he is double-board certified in nutrition; is a certified dietician-nutritionist (CDN); a certified nutritional specialist (CNS); a certified clinical nutritionist (CCN); he holds a postgraduate degree in chiropractic (DC) from the Los Angeles College of Chiropractic; a PhD from the Holistic College of Nutrition; a masters degree (MS) from the University of Bridgeport; a naturopathic degree (ND) from the Clayton School of Natural Healing; he earned an MD degree from the University of Health Sciences School of Medicine, Antigua; and was past Director of Education for the International & American Association of Clinical Nutritionists (IAACN).