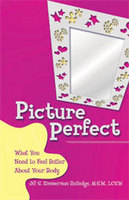 Girls today are being bombarded with idealized pictures of stick-thin bikini-clad models, and comparing themselves to these unrealistic body images can lead to poor self-esteem and a range of dangerous eating disorders
New York (PRWEB) June 2, 2008
June marks the beginning of swimsuit season, and it can be an especially challenging time for millions of teens and pre-teens in the U.S. who suffer from negative body image issues. To address these insecurities and develop a strong sense of self-esteem for years to come, a new book called "Picture Perfect" should be on every girl's summer reading list.
"Girls today are being bombarded with idealized pictures of stick-thin bikini-clad models, and comparing themselves to these unrealistic body images can lead to poor self-esteem and a range of dangerous eating disorders," said Jill Zimmerman Rutledge, psychotherapist and author of "Picture Perfect." "That is why it is important to help young women foster a positive body image as early as possible to ensure a lifetime of healthy behaviors."
Although summer can be one of the most difficult seasons for daughters as young as eight who tell their parents that they "need to be skinny" before donning a bathing suit, girls are particularly vulnerable to the development of body dissatisfaction, unhealthy dieting behaviors and eating disorders throughout the year. Consider these statistics:

According to the nonprofit organization Anorexia Nervosa and Related Disorders, Inc., more than half of teenage girls are, or think they should be, on diets. They want to lose all or some of the 40 pounds females naturally gain between the ages of eight and 14. Three percent of these girls develop eating disorders.
Over one-half of teenage girls in the U.S. use unhealthy weight control behaviors such as skipping meals, smoking cigarettes, fasting, vomiting, and taking laxatives. (1)
An estimated 10 million American women and girls have active, destructive eating disorders -- including anorexia, bulimia, and binge eating disorder. (2)
Adolescents with negative body image concerns are more likely to be depressed, anxious, and suicidal than those without intense dissatisfaction over their appearance, even when compared to adolescents with other psychiatric illnesses. (3)
Eating disorders are serious health conditions and anorexia has one of the highest death rates of any mental illness. (4)
Through the stories of other girls and self-quizzes, "Picture Perfect," published by HCI Teens, provides concrete coping skills and action plans that will help readers cope with body image issues, and find their own unique style. Rutledge also offers resources such as books, quotes, and websites that will inspire a girl to feel good about her body and herself.
One standout coping skill in "Picture Perfect" is that girls are encouraged to think of affirmations, or Special Statements, to counteract negative body image messages. For example, in Chapter Two, ''Should I Eat This? When Worries about Food and Weight Kidnap Your Life,'' Rutledge writes about a girl who felt bad about her body because she was larger and more athletic than most of her friends. Her Special Statement, 'I'm Strong, Not Fat,' helps her interrupt the cycle of feeling too big so that she can relax and enjoy her life.
Rutledge, M.S.W., LCSW, is a psychotherapist who has worked with adolescent girls and young women for 20 years. Visit the author at http://www.jillzimmermanrutledge.com.
Sources:
(1) Neumark-Sztainer, D. (2005). I'm, Like, SO Fat! New York: The Guilford Press. pp. 5
(2) http://www.nationaleatingdisorders.org/
(3) Journal of Child Psychiatry and Human Development, June 2006
(4) http://www.nationaleatingdisorders.org/
# # #