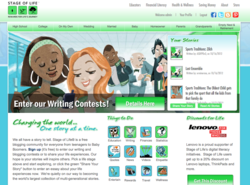 We were inspired by the courageous stories shared by the teens --Eric Thiegs, CEO and Founder of StageofLife.com
York, PA (PRWEB) May 31, 2013
With the high school and college graduation season in full swing, StageofLife.com, a free educational resource and blogging community for teens and college students, released its latest, monthly Teen Trend Report on the results uncovered during its national survey and writing contest on the topic of "teen fear."
Students from across the United States were asked 12 questions about their fears ranging from academic pressure to bullying to peer pressure to suicide to life after graduation.
Stage of Life discovered the following statistics about teenagers and their fears...
--33.7% of teens are afraid of test taking
--51% of teens are afraid of talking to their parents about personal problems. This number climbs to 54% for the percentage of teens who are afraid to talk to their teachers about their personal problems.
--40% of teens are afraid of peer pressure or not fitting in with people at school
--30% of teens are afraid of being bullied or harassed at school or other groups/clubs to which they belong
--43.6% of teens are afraid of depression or suicide
--66% of teens are afraid of the future or life after graduation
--75.5% of teens are afraid of poor academic performance or not getting good grades
--56.4% of teens are afraid of money. For instance, worrying about how to pay for things
--School Life stresses teens out more than home life (64.7% verses 35.3%)
Over 5,700 students visited the StageofLife.com survey and national writing contest page during the monthly national writing prompt, 445 teens answered the "Teens and Fear" survey, and 176 students submitted a personal essay to StageofLife.com sharing a story that answered Stage of Life's monthly national writing prompt, "When have you applied the phrase 'No Fear' in your life?"
20 finalists, 13 runner's up, and 1 winner were selected from a wide range of teen essays that talked about how students overcame or are currently working on overcoming their fears. The essay topics covered topics such as the fear of leaving home, the fear of failure, the fear of test taking, fear of bugs, fear of money, fear of the future, fear of death, and dozens more.
In total, over 175 teen essays were submitted to the blogging contest portion of the Stage of Life teen trend survey.
"We were inspired by the courageous stories shared by the teens participating in this month's writing contest," said Eric Thiegs, CEO and Founder of StageofLife.com. "Some of the fears that these students overcame are universal life lessons from which we can all learn."
To read all of the student fear essays and view the statistics about what teenagers fear, visit the StageofLife.com Teen Trend Report at http://www.stageoflife.com/StageHighSchool/WhatDoTeensFear.aspx
# # #
StageofLife.com is was founded in 2009 as a privately held company with an educational mission to encourage life-long readers and writers through its blogging community welcoming all generations, from teens to Baby Boomers.
With over a quarter of a million teen and teacher visitors each year, 5+ million uploaded words, nearly 10,000 contributing writer members, and thousands of submitted essays, it is becoming the world's largest collection of multi-generational stories. The site features free educational resources ranging from international writing contests, free blog resources, Language Arts lesson plans about blogging, goal setting worksheets, writing prompts, and more.
You can reach StageofLife.com by contacting Founder and CEO, Eric Thiegs, via email at contact(at)stageoflife(dot)com