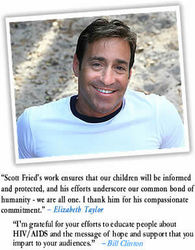 The secrets they share are poetic and singular, but also universal
New York (Vocus) September 28, 2009
Scott Fried knows what it's like to feel all alone in the world. He went through his teens as an outsider and has lived with the stigma of being HIV positive for more than two decades. For 18 years, Fried has dedicated his life to speaking to teens around the country, listening to their hopes, their dreams and their fears, as well teaching them comprehensive sexual health education.
Fried is releasing his third book Oct. 15, a labor of love that he calls "a communal anonymous voice" for teens to share their deepest thoughts and feelings. "A Private Midnight: A Teenager's Scrapbook of Secrets" is a journal of sorts, but also much more.
When Fried began speaking to teens at schools, camps and churches, he found that he related to them and that they opened up around him. Thousands of teens have emailed him with their innermost thoughts as he became their trusted advisor and friend.
"The secrets they share are poetic and singular, but also universal," Fried said.
Fried posted a survey on his website, http://www.scottfried.com, which allowed them to answer questions anonymously. The 10 insightful questions struck a nerve, and thousands of teens answered:

Who are you?
What are you afraid of?
What does the emptiness inside feel like?
Whose arms do you fall into?
Who do you miss the most?
What is the miracle you are waiting for?
What is your weapon?
When was the last time God spoke to you?
What advice would you give to your parents?
What is your favorite childhood memory?
"A Private Midnight" is a scrapbook of secrets, a collection of poems and possibilities and a journal of dreams. It can help parents and teachers "crack the code" of what it means to be a teen today.
"It will give them a much deeper understanding of the true issues facing their children as well as a platform to begin a healthy conversation," Fried said. "At the very least, it will offer them ten new and relevant questions to ask their teenage child, instead of the over-used and irrelevant two daily questions, 'How was your day?' and 'What did you do?'"
Fried is the author of two other acclaimed books, "My Invisible Kingdom: Letters from the Secret Lives of Teens" and "If I Grow Up: Talking with Teens about AIDS, Love and Staying Alive."
Fried is available for media interviews and speaking engagements around the U.S. To contact Fried, visit http://www.scottfried.com or call 212.465.2646.
Media Contact:
Jennifer Wezensky
JW Public Relations
269.274.4071
###