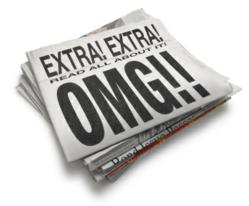 We were amazed by the intense, but inspirational, essays shared by the teens on today's controversial news stories...young people are extremely concerned about what's going on in the world around them.
New York, NY (PRWEB) June 30, 2013
In an effort to better understand which news stories resonate with today's teenagers, StageofLife.com, a blogging community focused on literary and free educational resources, asked students from across the country the question, "What national or international news story do you think more teens and college students should care about, and why?"
Before submitting essays nominating important news stories, the young adults took an online survey on the website revealing the following statistics about teenagers and how they consume the news:
--83.5% of teens say they pay attention to the news.
--41.6% of teens still read the newspaper.
--35.5% of teens watch TV news at least once per day, while 25% state they "rarely" or "never" watch TV news.
--1 out of 2 teens get their news from Major Network TV (CBS, NBC, ABC, or FOX).
--When asked about all of the possible sources through which teens consume news, the following outlets were ranked from most popular to least popular: Network TV News - NBC, ABC, CBS, FOX, etc. (50.9%); Cable TV News - CNN, FOX NEWS, MSNBC, etc. (47.6%); Word of Mouth from Friends (46.8%); Web News Sites - Reuters, CNN.com, etc. (42.7%); Radio - NPR, Rush Limbaugh, Sean Hannity, etc. (37.0%); Newspaper (32.6%); Websites (24.9%); News Magazines - TIME, US News & World Report, etc. (21.1%); and News-Based Blogs - Huffington Post, Drudge Report, Slate, etc. (19.8%).
--2.3% of teens never watch, hear, or see the news.
--North Korea, Gay Marriage, and Gun Control Legislation were the top three news story topics that most interested teens out of a list of over 10 current event topics.
--65.3% of teens say that the news stresses them out or makes them worry.
--91% of teens see their parents watching or reading the news.
Over 6,000 students visited the StageofLife.com writing contest page during the monthly national writing prompt, 389 teens answered the "Teens and News" national survey, and over 150 submitted a personal essay to StageofLife.com sharing their opinion on the news story they felt other young people should the most about.
20 Finalists, 9 Runners Up, and several Place-Finishers were selected from a wide range of teen essays that tackled controversial stories in the news such as the gun control debate, gay marriage debate, North Korea's hostile rhetoric, Obamacare, abortion laws, global warming, rape, bullying, and many other passionate topics that concern today's teens.
"We were amazed by the intense, but inspirational, essays shared by the teens on today's hottest news stories... young people are extremely concerned about what's going on in the world around them," said Eric Thiegs, CEO and Founder of StageofLife.com
The winning 1st place essay, "In the News: Terror, Justice, Unity, and Bigotry" addressed the theme that people should not irrationally fear or hate Muslims.
To read all of the teen TV essays and view the Teen and News statistics report, visit the StageofLife.com teen trend report at http://www.stageoflife.com/StageHighSchool/TeensandNews.aspx.
# # #
StageofLife.com is a privately held start-up company founded in 2009 by Minnesota natives, cousins, and entrepreneurs, Eric and Joseph Thiegs.
As an educational resource for high school teachers and homeschooling parents, StageofLife.com is home to over a quarter of a million teen, parent, and teacher visitors each year, 5+ million uploaded words, and thousands of submitted essays. It is becoming the world's largest collection of multi-generational stories and resources tailored by life stage – everything from statistics to etiquette to coupons. The site features writing resources that include writing contests, blogging tips, Language Arts lesson plans, goal setting worksheets, classroom or homeschooling writing prompts, and more.
You can reach StageofLife.com by contacting Founder and CEO, Eric Thiegs, via email at contact(at)stageoflife(dot)com.