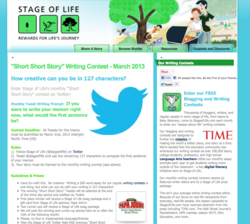 ...as we watched our traffic on the site and started seeing hundreds of thousands of visits from teenagers, we knew we had to diversify our social media presence and portfolio to stay relevant.
Dallastown, PA (PRWEB) June 29, 2013
In an effort to keep pace with its growing student user base, StageofLife.com, a teen blogging website and start-up company, added its eighth social media account. As society welcomes generation growing up with advanced technology, more and more small businesses like StageofLife.com must take full advantage of the benefits of social media platforms to drive youth engagement with their brands.
Stageoflife.com has fully embraced the shift technology is forcing on interpersonal communication in US culture and is looking to its social networks as an enhancement and access-point to its student writing portal.
"When we launched Stage of Life four years ago, we were only using Facebook to spread the word and encourage people to visit the site," says Eric Thiegs, CEO and Founder. "However, as we watched our traffic on the site and started seeing hundreds of thousands of visits from teenagers, we knew we had to diversify our social media presence and portfolio to stay relevant."
With social media fully integrated into the hearts and minds of the Gen Z and Gen Y age group, StageofLife.com now has active accounts and followers with the most popular social networks including Facebook, Twitter, Pinterest, YouTube, Blogger, Instagram, Vine, and Google+.
"I'm 40 years old," quipped Thiegs. "I still remember writing my high school term papers on a typewriter. I think I'm hip, but I'm really not, so I have a dedicated team of savvy college interns helping StageofLife.com stay up to speed with our social media strategy. Someone has to maintain these social media networks, and these kids live and breath it... so I give them the experience of running it."
Since much of the traffic on StageofLife.com is generated through the high school and college sections of the website, the company has geared its social media strategy primarily toward that particular age group.
For instance, earlier this year, Stageoflife.com launched a monthly Twitter writing contest called the "Short Short Story Contest". To enter, people add to follow Stage of Life on Twitter and Tweet their response to the writing prompt using 127 characters. From this social media driven campaign, the website witnessed a triple digit growth in Twitter followers, primarily from younger people within a few months.
"Thanks to one of my interns, Nate, we had a Professional Writing Major professor at York College of Pennsylvania use our Twitter writing contest for extra credit this last spring semester in her classes...how great is that!" said Thiegs.
More recently, thanks to the guidance of another of its social media college interns, Maura, Stage of Life kicked off a monthly Instagram Photo Contest. While StageofLife.com is primarily a writing and blogging experience, the Instagram photo contest opened up an opportunity for the website to reach other types of teens that may like to express themselves in different ways other than writing.
"Entrepreneurs and small businesses must understand the power of correctly using social media to help market their company," stated Thiegs, "but they must also remember that social media does a good job of telling you how 'real' you are." Thiegs warns that if a company tries to sound "cool" or sell "too hard" through its social media, fans will see through that and stopping following.
"You have to be authentic. It's why I trust my social media to my college interns. They get it, and they help keep me real."
As a company, StageofLife.com's goal is to change the world, one story at a time, and it was originally founded to support its national writing contests for bloggers. Keeping with those roots, it uses social media accounts to share, pin, Tweet, and Like an inspirational "Featured Story of the Day" that appeared on StageofLife.com that day.
"At the end of the day, we're really hoping our social networking tags simply inspire people to catch on and read or share some of the amazing real-life stories appearing on the website...cause there's nothing more real or authentic than those," stated Thiegs.
# # #
StageofLife.com was launched in 2009 as a privately held company and has welcomed over half a million people from over 100 countries who have come to read or share their life stories.