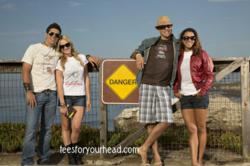 The lure of a quirky online business proved irresistible.
(PRWEB) September 28, 2012
Tom Bates and Karin Carter started exploring the idea of starting a t-shirt business with a "what if" mentality, turning car travel into brainstorming sessions. Their years in the tech industry had trained them to be flexible and curious, and they soon decided that it sounded like fun to download their brains onto cotton. The end result is their growing catalog of geeky t-shirts.
Their jump from tech to t-shirts was shorter than it looks. The work of a t-shirt business was familiar to them: using the Internet for marketing and research, using software to create tee designs, and using technical knowledge to navigate the database and other aspects of setting up the Tees For Your Head store.
As a married couple working together, they've had to learn (sometimes over and over) how to work together. Each of them took on certain areas of responsibility based on their skills and inclinations. They avoided deadlocking when they didn't agree because one or the other has final responsibility for each area.
When Tom creates a tee, he writes code that draws T-shaped mazes and optical illusions. Together, they reference Benoit Mandelbrot, Douglas Adams, the Flammarion Woodcut, Braille, and Koch's algorithm. Karin draws a t-shirt-wearing T. Rex and creates word clouds of astronomers, SF writers, and architects—first names only, to get people debating which Robert the tee is talking about.
Tees For Your Head mainly uses direct-to-garment printing with water-based inks because it means great colors, fewer inventory headaches, and never running out of XL. They outsourced their printing to three different professionals, leaving themselves free to create new designs.
The two have settled into a groove, with a backlog of raw ideas and finished and unfinished designs piling up. "It's taken us some time to find our voices, to come up with original ideas on topics we're interested in, and to start zeroing in on what we think is funny," Tom says. Karin admits that by living with her ideas for weeks or months, she's had to "come to the tragic conclusion that puns can be okay, but they usually lose their funny on a t-shirt, unless they're part of a larger idea."
"We're looking for people who think like we do," she adds. "We know they're out there. If there's one thing you can learn from the Internet, it's that you're not alone, no matter what your interests."