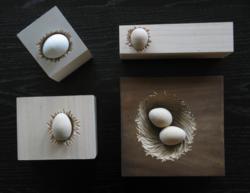 Artistic business owners show both art and business talent at the Santa Cruz First Friday art walk.
Santa Cruz, CA (PRWEB) October 03, 2012
Small is beautiful. Miniature works, each measuring under a foot in any direction, will be displayed at Cruzioworks during the October 5th 2012 Art Walk.
The owners of It's Great Media and Tees For Your Head will be showing their artistic sides by participating in the art exhibit. Emily Cohan, founder of It's Great Media, will show giclee prints and acrylic paintings. Tom Bates, a computer programmer who writes software to create digital prints, will show a related set of algorist prints. Karin Carter will show a part of her wood nest sculpture series.
Other artists showing small works include Rick Salas, Laura Cohan, Meagan Ingerman, and Anda.
About Tees For Your Head: the online retailer of geeky t-shirts for lovers of the arts and sciences launched their website in 2012. Husband and wife team Tom Bates and Karin Carter have an arts and science background and create their own designs to appeal to the geeks of the world. Shirts are offered on organic or conventional cotton, in fitted or classic styles, in kids' sizes, and in men's and women's styles. Santa Cruz tee shirt designs are in the works. Tom's artwork is shown at http://www.betweenartandscience.com, and Karin's is at http://www.karin-carter.com.
About It's Great Media: Graphic designer Emily Cohan created the company to provide a new service-based product called NiftyScreens. NiftyScreens will offer motion-graphics services on equipment provided by It's Great Media, starting at just $75 per month. The company solves the problems small business owners face with other digital signage services or motion graphic media companies, since many other companies offer only equipment or their custom animation pricing is unrealistic for small businesses. It's Great Media makes it easy for shop owners to identify which animations will help promote their brands, products, and services. Users of the service can add their own content, text, photos, and logos.