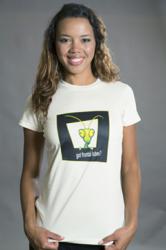 We support people who wear large sizes, and we offer plenty of color options in all sizes up to 6XL
Santa Cruz, CA (PRWEB) November 20, 2012
Customer requests have resulted in Tees For Your Head more than doubling their offerings in t-shirt styles. All shirts are printed to order, and now buyers can choose designs printed on any of the four styles of blank shirts:

fitted organic crew-neck styles, both men's and women's cuts
classic-cut crew neck, a looser fit, for adults, in sizes from small to 6XL
classic cut crew neck for youth, in sizes from extra small to extra large
fitted women's v-neck
All shirts are high quality, and most of them are ring spun, a technique that results in a soft feel. The inks used to print the Tees For Your Head's designs are water-based and non-toxic.
For bigger buyers, finding 6XL tees is a challenge. "We support people who wear large sizes, and we offer plenty of color options in all sizes up to 6XL," says Karin Carter, co-owner of Tees For Your Head. "The style choices we've added make it possible to find a tee for anyone in the family, and you're never told that the size or color you want is out of stock. With direct-to-garment printing, we have your shirts printed when you place an order and the blank tees come straight from the manufacturers."
Families or groups can create a tee that everyone from a four-year-old to grandpa can wear. By choosing a design such as Got Frontal Lobes or Thanks For All The Fractals and ordering it on the appropriate size shirts (either all the same color, or a variety), a group can have fun wearing the same design.
Or a group can choose a single shirt color and vary the design. Not all styles have the same colors available, but every style includes black, white, and navy. Great for work groups or for a group attending a geeky event.
About Tees For Your Head: the online home of geeky t-shirts for lovers of the arts and sciences was launched in 2012. Husband and wife team Tom Bates and Karin Carter, who live in Santa Cruz, California, have an arts and science background and create their own designs to appeal to the geeks of the world. Shirts are offered on organic or conventional cotton, in fitted or classic styles, in kids' sizes, and in men's and women's styles. Hard to find large sizes are available, with sizing up to 6XL. Santa Cruz tee shirt designs are in the works.