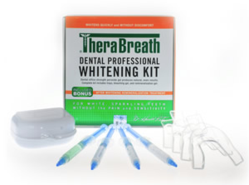 Reach desired teeth whitening results in only 5 treatments!
(PRWEB) July 25, 2012
TheraBreath® is excited to announce the introduction of three new teeth whitening products to its existing line of TheraBreath® oral hygiene products: the Touch Up Whitening Pen, the Dental Professional Whitening Kit and the Tooth Sensitivity Treatment Pen. All three products provide powerfully effective ingredients perfected and approved by dentist and bacteriologist Dr. Harold Katz, creator of the patented OXYD-8 breath freshener as well as the entirety of TheraBreath® products.
Click here to view the new TheraBreath® Teeth Whitening products: http://www.therabreath.com/teeth-whitening/.
Maintaining clean, white teeth is important to most people who are concerned with looking their best and making excellent first impressions. Smiles that reveal healthy, sparkling teeth are immediately appealing to whomever the smile is directed. A visible array of flawlessly white teeth instantly enhances any type of complexion, eye color and lip color, while increasing self-esteem and the courage to interact with others.
TheraBreath®'s Dental Professional Whitening Kit is one of the latest products in a long line of TheraBreath® oral hygiene products that have been used by millions of individuals over the past 18 years in more than 50 countries. By applying the professional strength peroxide gel provided by this innovative whitening kit, consumers will experience the same even and natural-looking results obtained through repeated, expensive visits to a dentist.
Included in each Dental Professional Whitening Kit is everything needed to whiten teeth quickly, safely and privately. Each kit provides four Thermoplastic mouth trays that easily mold to the shape of the mouth, three whitening syringes with which to apply the peroxide gel and one plastic tray case to keep items clean and ready to use.
The bleaching gel contained in the whitening syringes is an improved blend of carbamide (urea) peroxide. In addition, TheraBreath® now uses glycerin as a base for the gel instead of glycol after conducting research concerning the receptiveness of teeth surfaces to the whitening gel. Natural glycerin, a substance acquired from plants, is more effective at permitting absorption of the gel by teeth, which stimulates its whitening properties and provides faster results.
Optimal affects are best reached with TheraBreath®'s whitening gel when users wait at least 24 hours between applications. A test application on one tooth is recommended to determine if 30 minutes is long enough to leave the gel on the tooth. Some people experience minor discomfort after 30 minutes, others can handle an hour of bleaching without experiencing any tooth sensitivity.
As an added bonus to celebrate this new product launch, Dr. Katz and TheraBreath® products have included one remineralization gel syringe in each Dental Professional Whitening Kit to eliminate discomfort caused by tooth sensitivity. This special remineralization gel contains the right amount of fluoride to promote the creation of enamel crystal by the teeth. These crystals are stronger than what is provided by the initial structure of a tooth and inhibits cavity development as well as sensitivity.
Because it is a natural process, the whitening experienced by customers of TheraBreath®'s Dental Professional Whitening Kit will not be diminished by the discoloration sometimes caused by fluoride use. Only the attractiveness and vitality of healthy, white teeth will shine through after using TheraBreath®'s newest products.
In between regular whitenings provided by the Dental Professional Whitening Kit, customers will enjoy the convenience of using the TheraBreath® Touch Up Whitening Pen. Available in a two-pack, this pen administers touch-ups for areas on teeth that are prone to staining, such as in between teeth and near the gumline. With TheraBreath®'s Touch Up Whitening Pen, a dazzling, white smile is always guaranteed to impress both new and old acquaintances.
For people who experience frequent tooth sensitivity to cold, hot or sugary foods, TheraBreath® has supplied its customers with yet another product exhibiting the same powerful qualities of professional dental ingredients--TheraBreath®'s Tooth Sensitivity Treatment Pen.
Tooth sensitivity arises from a variety of reasons that eventually erode enamel and cause exposure of dentin, the layer just underneath tooth enamel. Dentin contains nerve endings that reach into the middle of the tooth where the softest tissues exist. When tooth decay, receding gums, faulty brushing habits, bite irregularities or severe gum infections cause enamel erosion, dentin that is not normally exposed becomes vulnerable to extreme sensations.
TheraBreath®'s Tooth Sensitivity Treatment Pen provides a remineralization gel that is similar to what is used by many dentists as a clinically proven therapy to reduce the pain of sensitive teeth. Applying this gel to sensitive tooth areas effectively seals the compromised enamel which prevents further erosion and initiates remineralization of thinly enameled areas.
As one of the world's leading makers of professional strength oral hygiene products, TheraBreath® and Dr. Katz have once again provided consumers with the means to improve oral health by preventing enamel decay and whitening teeth with the same professional solutions used by dentists.
Try all three of TheraBreath®'s newest products to experience the dramatic benefits of whiter teeth and reduced tooth sensitivity-the Dental Professional Whitening Kit, the Touch Up Whitening Pen and the Tooth Sensitivity Treatment Pen. All products have been formulated, tested and approved by Dr. Katz, the original founder of TheraBreath® Oral Hygiene Products, to ensure that existing and new customers receive the same level of effectiveness and satisfaction provided by all TheraBreath® products.