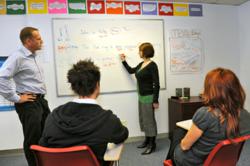 We are very proud to offer those who wish to become qualified to teach English abroad the opportunity to receive world class training and earn an internationally recognized TEFL certification in New York, one of the world's great cities
Chicago, IL (PRWEB) January 30, 2013
Chicago-based International TEFL Academy, a world leader in TEFL (teaching English as a foreign language) certification courses for teaching English abroad, has announced that it now offers TEFL TESOL certification classes in New York, NY.
According to Bruce Jones, President of International TEFL Academy, classes are now offered in the heart of Midtown Manhattan and will qualify those who complete the courses for hundreds of thousands of professional opportunities to teach English abroad around the world.
"We are very proud to offer those who wish to become qualified to teach English abroad the opportunity to receive world class training and earn an internationally recognized TEFL certification in New York, one of the world's great cities," Jones said.
Curriculum for the course has been developed by the World Learning's SIT Graduate Institute and meets or exceeds the highest standards for TEFL training as set forth by international bodies like the British Council, and required by thousands of language schools and institutes around the world seeking to hire newly trained English teachers.
"An accredited, recognized TEFL certification is key for those who want to teach English abroad," said Jones. "Our students need it to develop the skills to become effective professional English teachers overseas, and it is required to qualify for English teaching jobs around the globe."
Participants will have the option of taking a four-week intensive full-time course, or part-time three-month classes in the evenings or on weekends.
According to the International TEFL Academy, TEFL certification classes in New York will be taught by highly experienced, SIT-certified instructors with advanced degrees and experience. A strict 6-to-1 student-teacher ratio is maintained and all classes incorporate live practice teaching to local ESL students. Jones said that live practice teaching is a critical element of any accredited TEFL certification course and provides trainees with vital hands-on classroom experience.
All students also receive lifetime job search guidance to provide them with the resources and guidance necessary to gain employment teaching English abroad in Asia, Europe, Latin America and the Middle East. Graduates may also find opportunities teaching English in the New York metropolitan area, primarily in local private language schools providing English language instruction primarily to recent immigrants, refugees and foreign exchange students.
International TEFL Academy graduates gain employment as English teachers in dozens of countries around the world in a variety of language institutes, pre-schools, private academies and even public schools in countries like Japan, Korea and France.
In most countries, American English teachers earn a comfortable if modest living, but in some countries, particularly in Asia and the Middle East, qualified English teachers can often save thousands of dollars annually after expenses and may receive such benefits as free housing and airfare, free medical insurance, and paid vacation.
Request a TEFL Certification brochure or call 773-634-9900 to learn more about teaching English abroad and TEFL Certification in New York, including tuition and dates.
International TEFL Academy (ITA) is a world leader in training and certifying English speakers to teach English abroad. Based in Chicago, IL, ITA trains more than 1,200 English teachers annually and offers internationally accredited TEFL TESOL certification courses online and in 25 locations around the world. All students and graduates receive lifetime job search guidance and graduates are currently employed as teachers in dozens of nations in Europe, Asia, Latin America and the Middle East.
For more information, please visit: http://www.internationalteflacademy.com