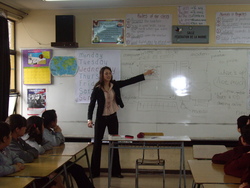 I was laid off and had considered teaching before. The recession gave me that extra incentive to make the move.
Denver, CO (PRWEB) October 12, 2009
While jobs in America continue to be scarce, teaching English abroad proves to be an attractive employment option. BridgeTEFL, a Denver-based leader in training and certifying professionals to teach English overseas, has noticed a significant spike in inquiries for teacher certification and job placement programs over the past year. And while the majority of participants in BridgeTEFL programs are recent college graduates, more and more professionals who have been laid off or are unable to find work are considering the option of living and teaching overseas.
In a recent survey conducted by BridgeTEFL, 70% of participants in teacher certification and job placement programs said their decision to teach overseas was influenced by the current economic recession. Furthermore, while 33% of survey respondents were recent graduates, 34% were professionals looking for a career change. BridgeTEFL graduate James Claire, currently teaching in China, commented, "I was laid off and had considered teaching before. The recession gave me that extra incentive to make the move."
"As jobs in the U.S. become scarcer we've predictably seen increases in the numbers of recent graduates who go abroad to teach English, but we've also seen a surge in applications from individuals in their 30's, 40's and 50's. These individuals come with experience in everything from engineering and law to early childhood education and so are great assets to English schools abroad. The current economic circumstances also give them the chance to live abroad, an opportunity that many wish they had taken advantage of before beginning their careers," explained Katy Owens, a job placement advisor at BridgeTEFL.
While unemployment in the United States is forecasted to reach ten percent, many foreign economies are starting to bounce back, meaning that jobs teaching English are plentiful. Schools in South Korea, one of the busiest teaching hotspots in the world, typically offer teachers attractive benefits such as housing and airfare reimbursement in addition to a competitive salary. BridgeTEFL reports that enrollments in Korea programs have more than doubled in the past year.
New teachers who are looking to secure a quality position are advised to get certified before heading abroad. "As teaching jobs become more competitive, more and more schools overseas are looking to hire teachers with a TEFL certification. At BridgeTEFL, we have seen enrollment increases in all of our certification courses, including the Cambridge CELTA, Bridge IDELT (International Diploma in English Language Teaching), and TEFLOnline.com," said BridgeTEFL director Lisa Rooney.
For more information on teacher certification and job placement programs, contact Katy Owens at BridgeTEFL: 303-785-8891.
About BridgeTEFL:
A division of Bridge-Linguatec, Inc., BridgeTEFL is the largest provider of TEFL (Teach English as a Foreign Language) courses in the United States, training over 3,000 teachers annually.
About Bridge-Linguatec:
Founded in 1983, Bridge-Linguatec is a world leader in language, education and travel. An international company with headquarters in Denver, Colorado, Bridge-Linguatec offers a wide spectrum of language related products and services, including language training and immersion programs, teacher training and development courses, language testing, translation and interpretation services, and cross-cultural travel programs including international service learning, language study and teaching English abroad.
###