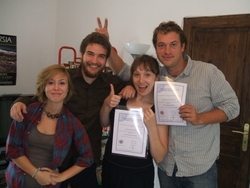 We don't just provide a TESOL program, we provide the "how to" information to set up and live abroad as an English teacher.
Montpellier, France (PRWEB) December 9, 2009
Due to a voracious demand for English teachers around the world, leading TEFL provider, The Language House provides training to become an English teacher in the Mediterranean locations of France, Italy, Morocco and Turkey. With the TEFL certificate, course participants can travel anywhere in the world by teaching English.
Founded in 2004, The Language House started in Montpellier, France as a provider of a TEFL/TESOL program (Teachers of English to Students of Other Languages) a one month program that allows its graduates to teach English abroad. Upon completion of the course, successful candidates receive a TEFL (Teachers of English as a Foreign Language) Certificate. The Language House also offers a "Teaching Business English" program which allows holders of a TEFL Certificate to hone their teaching skills in the fastest growing ESL field of Business English.
"Now more than ever the push is on in France and the rest of Europe to embrace Business English," says Gyl Golden, Regional Director. "Because the European Union must now work together in various sectors, there is an increasing acceptance for English as the language of business," she adds.
The TEFL certificate course is designed to teach native or near native English speakers how to teach English to students of other languages. Along with the TEFL certificate, English teachers who graduate from this program receive The Language House's signature job coaching services. "Job Coaching Services" entail CV/resume assistance, interviewing techniques, a graduate- only website, which provides all English language schools and housing support for the Mediterranean region, as well as expert advice from The Language House's international staff.
Along with the TESOL/TEFL Course and job coaching packages, The Language House aims to be a full service provider for hopeful expatriates by providing language lessons in the country where they wish to live and work. In focusing uniquely in Mediterranean countries and partnering with the best schools available, The Language House is able to offer a wide variety of language immersion options. This intense language study program complements the plan of long-term world travel.
The advantages to taking The Language House TEFL programs are:

Small class sizes for personalized attention.
The Language House is the only program that focuses on one select region which guarantees expertise on living and teaching in the Mediterranean countries as well as our clients get insider advice from our local staff.
Observed teaching practice takes place in practicing English language schools as well as mainstream educating bodies.
Customized job assistance and coaching for finding work abroad
"We don't just provide a TEFL certificate program, we provide the "how to" information to set up and live abroad as an English teacher," says Golden.
About The Language House:
The Language House, an American corporation, operates by creating a network of alliances with existing language schools, businesses and organizations in the Mediterranean. Along with Montpellier, there are locations in Nice, Marrakesh, Genoa and Antalya. By using only existing businesses and resources, The Language House is not only a full service gateway to Mediterranean countries for its clients but also contributes to the local communities where their sites are located.
Between now and December 31st, The Language House is offering great end of the year special deals. Prospective English teachers who wish to complete a TESOL/TEFL certification can find more information on all the services and promotions that The Language House team provides at,
The Language House TEFL
Language Holiday Abroad
###