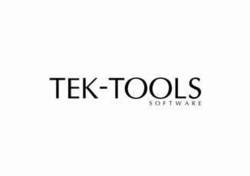 Despite current economic conditions, data growth is still a constant for the majority of organizations out there. IT professionals are tasked with maintaining business SLAs and figuring out how to optimize their infrastructure, but with the same or fewer resources
Dallas, Texas (Vocus) February 13, 2009
Tek-Tools Software , a leading provider of IT resource management software solutions, today announced customers facing the competing pressures to reduce costs while also improving IT infrastructure efficiency are turning to Profiler 's proven ability to continuously monitor complex heterogeneous physical and virtualized IT components - servers, storage, back-up and applications. Profiler's reports provide critical information for developing and executing IT strategies for today's tumultuous business climate. To support customers' continuously changing needs, Tek-Tools released a new version of the Profiler Suite today with enhancements in virtualization management, storage and data protection (see press release "Tek-Tools Expands Capabilities in Virtualization, Storage, Data Protection in IT Resource Management Software" dated February 10, 2009).
Pressures Mount
An Enterprise Strategy Group report, "Medium-Size Business Server & Storage Priorities" (June 2008), revealed that businesses are experiencing significant pressure to more effectively support the business, increase asset utilization, and improve information management and security--all while holding down costs across the board. Many are incorporating server virtualization and blades in the hopes of improving the performance, cost-effectiveness, and utilization of server resources. They are also looking to networked storage as a key enabler of improved information management capabilities.
Slow economy does not equal slow data growth
"Despite current economic conditions, data growth is still a constant for the majority of organizations out there. IT professionals are tasked with maintaining business SLAs and figuring out how to optimize their infrastructure, but with the same or fewer resources," said Bob Laliberte, analyst, Enterprise Strategy Group. "The first step to maximizing their infrastructure is to understand what assets are in place and how they're being utilized. Armed with that information, companies can plot a course for higher utilitization, potentially saving millions in unnecessary storage purchases. Making a small upfront investment in tools that provide visibility can deliver a substantial ROI in a very short time. The Tek-Tools customers I have spoken with privately said the ability to monitor their complex heterogeneous environments with a single solution has been a key enabler for them. Otherwise, they would need additional staff and still be making critical decisions based on incomplete information. The holistic picture Tek-Tools' Profiler delivers accelerates their efforts to maximize the infrastructure."
Profiler customer saves $50-100K
Profiler delivered one customer a clearer picture of actual utilization of its large NetApp storage environment. A Profiler report revealed utilization was at a mere 30 percent. With this knowledge, they were able to reclaim 5-10 terabytes that had been allocated, but not utilized without any disruption to the business. At $10 per gigabyte, this immediately translated to a savings of $50 - 100K on the reclaimed storage.
Continuous monitoring required
One Tek-Tools customer, one of the oldest and largest investment banking firms in the world, has over a petabyte of storage and more than 3,000 servers in a very complex and heterogeneous environment. Server virtualization is an important IT strategy for this firm as one way to drive efficiencies within its IT operations. Done right, virtualization has proven to help achieve cost reduction, efficiency of operations and greater environmental sustainability. But, especially with fewer resources and little or no room for mistakes, before deciding what can be virtualized, it is important to have an understanding of the entire infrastructure and the interdependencies of its individual components. As a long-time Tek-Tools customer, this firm understands the value of the pre-defined and customized reports the Profiler Suite provides on capacity utilization, performance, and availability. Armed with this information, IT managers can more accurately forecast and make more informed decisions such as which servers to virtualize.
"Any IT strategy developed without a clear understanding of the infrastructure that's in place will miss opportunities to maximize efficiency," says Tek-Tools President and CEO Ken Barth. "Most of our customers have started with us leveraging a handful of Profiler's modules, but as they start to see the value of a comprehensive view of the infrastructure from a single console, they expand their implementations as quickly as they can. With the ability to look across servers, storage, backup and applications from the one Profiler console, the investment immediately and continually proves its worth, saving them time and capital managing dynamic heterogeneous infrastructures."
About Tek-Tools
Tek-Tools Software, Inc. is a leading provider of IT resource management solutions serving customers from the Fortune 50 to the Fortune 5000 across every major vertical market. Its flagship Profiler Suite delivers end-to-end visibility and specific actionable insights on the entire IT infrastructure enabling proactive IT infrastructure management in support of critical business operations. The company is privately-held with offices in the U.S., the U.K. and India. For more information, visit http://www.tek-tools.com or call (972) 980-2890.
Press Contacts:
Stephen Harding
(972) 980-2890 ext. 229
Kelly A. Murray
(978) 597-3377
###