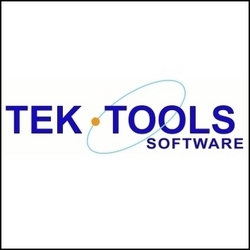 With more than 400 attorneys at the firm today, and diverse practice areas such as business reorganization, finance, investment management, and real estate, it is vital to ensure that our information technology is resilient
Dallas, Texas (PRWEB) August 1, 2007
Accurate and timely information is critical in the legal world. To maximize their investment in EMC, IBM, and Symantec, and to ensure operational efficiencies, the premier law firm of Schulte Roth & Zabel (SRZ) chose Tek-Tools Profiler to proactively monitor their IT infrastructure.
"With more than 400 attorneys at the firm today, and diverse practice areas such as business reorganization, finance, investment management, and real estate, it is vital to ensure that our information technology is resilient," stated Sam Blumenstyk, Technology Operations Manager at Schulte Roth & Zabel LLP.
Faced with the challenge of proactively managing and optimizing performance across a multi-vendor environment that supports the firm's mission-critical data, SRZ needed a scalable tool with broad vendor support for monitoring and reporting. To address this challenge and capture a single pane-of-glass view of the entire enterprise, SRZ implemented the Profiler Suite , which includes: StorageProfiler, for enhancing real-time performance monitoring, file analysis, and forecasting for both their EMC Clariion and IBM N-Series NAS arrays; ServerProfiler, for performance monitoring and a host-centric view of their storage on mission-critical windows-based servers; BackupProfiler, for real-time monitoring of their Backup Exec infrastructure.
According to Felipe Ortiz, SRZ's storage engineer: With Profiler, we have a very clean way to proactively manage service-level objectives around our backups and mission-critical servers, and the ability to understand both how we are using our storage and our rate of growth." Ensuring peak performance of our systems and protecting our data is vital to executing on our core mission," concluded Blumenstyk.
"Schulte Roth & Zabel is one of the most prominent law firms in the world, and we are delighted to have earned their confidence," said Curt Simmons, Vice President of Sales at Tek-Tools. "SRZ's decision to standardize on Profiler continues to validate Tek-Tools as a leader in the resource management space. "
About Schulte Roth & Zabel LLP
Schulte Roth & Zabel LLP was founded in1969. With more than 400 attorneys at the firm today, its practice areas—business reorganization, business transactions, employment and employee benefits, finance, individual client services, intellectual property, investment management, litigation, real estate, structured products, and tax—address clients' business and individual needs. In addition, SRZ recognizes the importance of and dedicates significant time to pro bono, professional development and client services. Schulte Roth & Zabel has offices in New York and London.
About Tek-Tools
Tek-Tools Software, Inc. is a recognized leader in the storage resource management space. Tek-Tools' Profiler Suite is a modular, Web-based, real-time and historical reporting and forecasting application targeting storage, backup, application, and server pain points in customer environments. Tek-Tools' headquarters are located in Dallas, Texas, (972) 980-2890, and on the Web at http://www.tek-tools.com.
Contact:
Tek-Tools, Inc.
Stephen Harding
Director of Marketing
(972) 980-2890
###