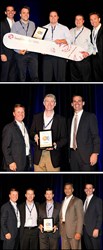 Sandy, Utah (PRWEB) July 17, 2013
Telarus, Inc. distributor of commercial data, voice, and cloud solutions, today released the list of top performing sales partners and suppliers for 2012 at its annual Telarus Partner Summit at the Stein Eriksen Lodge in Deer Vally, Utah. The recipients of Telarus' top honors were recognized in front of the record-breaking crowd of over 350 conference attendees.
The awards for Top Sales Partner (by new sales revenue) went to:
Complete Communications (Kaysville, Utah)
Ethertel Networks (Franklin, Tennessee)
Telepoint Communications (Spokane, Washington)
Broadband Consultants (Vancouver, Washington)
iSymplify (Weldon Spring, Missouri)
Anvil Network Solutions (Naperville, Illinois)
Solveforce (Yorba Linda, California)
Innovative Business Solutions (Castle Rock, Colorado)
Trinity Network Solutions (Woodinville, Washington)
Dynamic Network Advisors (Tustin, California)
Cynergy Telecom (Acworth, Georgia)
Pacific Business Systems (Summer, Washington)
The Telarus Partner's Choice Award winners are (by popular vote):
Most Improved Supplier: XO Communications
Best New Supplier of 2012: Charter Business
Best Local Channel Managers:
Laura Keon - Windstream Communications
Justin Lyle-Purdy - Time Warner Cable Business Class
Ryan Burke - Earthlink Business
Top National Channel Managers:
Chris Shubert - Telnes
Patrick Lalley - ACC Business
Top Overall Carrier: Integra
Top Carriers by Sales Volume:
Comcast Business
Windstream Communications
ACC Business
Integra
Earthlink Business
"I'd like to extend a personal congratulations to our top partners and suppliers of 2012," added Adam Edwards, president of Telarus. "Your collective and individual efforts propelled our entire company to our best year ever, with over 60% sales growth from last year. These incredible numbers are a result of your tireless efforts, our mutual investments in our success, and our united determination to improve each and every year."
About Telarus
Telarus, Inc., a value added distributor that holds contracts with the world's leading commercial telecommunication carriers, makes it easier and more profitable for solution providers, VARs, and MSPs to sell and source voice and data WAN solutions. Our patented GeoQuote platform combines real-time carrier pricing with advanced research features and branded proposals. Telarus' experienced Sales staff is strategically focused on enterprise WAN and high-capacity bandwidth solutions, making it easier to find the best offer, every time. For its part, Telarus has been named the top Master Agent by the members of the Telecom Association in each of the past three years, the first and only company in the carrier channel to accomplish this feat. Whether you are a top producer or a voice-and-data expert just starting out on your own, there is a place for you in the Telarus community. For more information on the Telarus partner program, please visit telarus.com or call the new partner hotline at 877-346-3232.