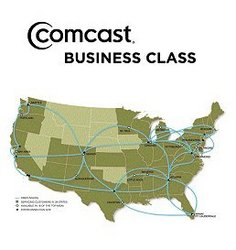 This partnership will create new and exciting selling opportunities to our community of independent sales agents who work with Telarus
Philadelphia, PA (PRWEB) March 18, 2011
Comcast Corporation, one of the nation's leading providers of entertainment, information and communications products and services, has launched the Solutions Provider Program, a comprehensive indirect channel program that enables telecommunications consultants and Value Added Resellers (VARs) to sell Comcast's services such as Business Class Internet, Voice, and high-capacity Ethernet services to small and mid-market businesses. The program offers recurring commissions for sales partners based on monthly revenue, and Comcast will provide, install, manage and bill for these services.
For the initial launch of the Solutions Provider Program, Comcast enlisted three national master representatives, including Telarus, based in Salt Lake City, Utah. Sub-agent sales partners must work with one of these three partners in the early stages of the program.
"We've been working diligently to design a best-in-class program that will offer our sales partners the infrastructure and support they need to more easily promote our services and engage new customers," said Craig Schlagbaum, Vice President of Indirect Channel Sales for Comcast. "At this early stage, we're continuing to focus on optimizing our support to deliver a program that solutions providers find compelling."
The Solutions Provider Program will supply the sales, marketing and operational support that will enable solutions providers to leverage Comcast's advanced network to sell Comcast Business Internet, which offers download speeds of up to 100 Mbps, Voice, and, eventually, Metro Ethernet and additional services. These scalable services provide cost-effective solutions that can address business needs such as increased bandwidth demands as well as hosted cloud-based applications and other new emerging services. They also can provide the core network infrastructure to help with storage, disaster recovery, business productivity and many other vital business applications used by small to medium-sized business customers today.
"We're proud to have three national master agent sales partners, including Telarus, representing us as the anchor tenant members of our Solutions Provider Program. We chose these companies based upon an extensive review of their robust capabilities and determined they were best positioned to work and grow with us during this early phase of our program," added Schlagbaum.
Comcast is introducing its Solutions Provider Program at the Spring 2011 Channel Partners Conference & Expo currently underway in Las Vegas. Leveraging the existing relationships of Telarus' extensive sub-agent sales partners and their knowledge of working with cable companies, Comcast expects to begin taking new orders on March 22. For sales partners who only wish to provide leads to Comcast's direct sales team in exchange for a one-time referral fee, Comcast also offers the Comcast Referral Program. Information on that program can be found at business.comcast.com/referral.
For more information about the Solutions Provider Program, visit business.comcast.com/partner.
About Comcast Business Services
Comcast Business Services, a unit of Comcast Corporation (http://www.comcast.com), offers high speed broadband Internet, voice and television to businesses of all sizes for cost-effective, simplified communications management. Backed by 24/7 business-class support, Comcast Business Services provides advanced communication solutions to help organizations meet their business objectives.
Comcast Business Class Internet is a comprehensive business solution that includes Microsoft Communication Services, a world-class productivity suite that combines Windows® SharePoint and Microsoft Outlook email. Commercial Internet service also includes Norton™ Business Suite, which helps protect up to 25 PCs from viruses and spyware in addition to a range of other website hosting, design features and options.
Visit http://www.business.comcast.com for more information.
About Comcast Corporation
Comcast Corporation (http://www.comcast.com) is one of the nation's leading providers of entertainment, information and communications products and services. Comcast is principally involved in the operation of cable systems through Comcast Cable and in the development, production and distribution of entertainment, news, sports and other content for global audiences through NBCUniversal. Comcast Cable is one of the nation's largest video, high-speed Internet and phone providers to residential and business customers. Comcast is the majority owner and manager of NBCUniversal, which owns and operates entertainment and news cable networks, the NBC and Telemundo broadcast networks, local television station groups, television production operations, a major motion picture company and theme parks.
About Telarus
Telarus, Inc. is a leading master agent who works with 30 carrier service providers and 250 independent telecom sales agencies nationwide. Established in 2002, Telarus leverages GeoQuote, a patented real-time quote engine, to provide near instant pricing for transactional services. Large deal support is offered by Telarus' award-winning team of veteran carrier experts that help agents improve their sales of complex solutions. Telarus was named the top master agent by the members of the Telecom Association in 2008, 2009, and 2010.
###