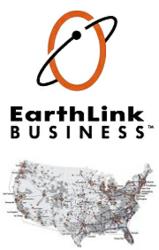 To have an agent of this stature presenting EarthLink Business solutions is tremendously valuable.
Atlanta, GA (PRWEB) January 11, 2012
EarthLink, Inc., (NASDAQ: ELNK), a leading IT services and communications provider, today announced that Telarus, Inc., a telecom master agent and patent holder for GeoQuote, a real-time carrier quoting platform, has signed EarthLink Business' new nationwide Channel Partner agreement. The new agreement will allow Telarus agent partners to sell EarthLink Business voice, data and managed services products nationwide across its expansive network footprint, which includes a nationwide MLPS platform and 28,000 route fiber miles.
"We are excited to have access to the unified EarthLink Business portfolio and network," said Adam Edwards, President of Telarus. "We have a long history with most of the companies that comprise the new EarthLink Business. We know how they work, we know their products, and more importantly, our agent partners like selling their value. The addition of the EarthLink Business southeastern network, which we previously could not source, combined with the rollout of the new EarthLink Complete nationwide voice and data IP service and its new managed services platform, is a welcome addition to our portfolio."
In support of the new agreement, the Telarus IT team successfully integrated many EarthLink Business products into GeoQuote, its patented system used by more than 600 Telarus agents to perform price and availability research. GeoQuote users now see pricing for EarthLink Business solutions including data T1, bonded T1, integrated T1, local voice and more. Telarus will likewise provide EarthLink Business enterprise network quotes to its agents through its in-house sales solution experts.
"Telarus is a long-time partner and the signing of our new nationwide consolidated agreement enables them to sell the unified EarthLink Business portfolio across the country. We look forward to a long and mutually rewarding partnership," said JR Cook, EarthLink Business Vice President of Channel Partners.
If you are interested in becoming a Telarus agent and adding EarthLink Business to your own product suite, please contact Justin Chugg at (877) 346-3232 or visit http://www.telarus.com for more information.
About EarthLink Business
EarthLink, Inc. (NASDAQ: ELNK) is a leading IT services, network and communications provider to more than 150,000 businesses and over one million consumers nationwide. EarthLink empowers customers with managed IT services including cloud computing, mpls vpn, data centers, virtualization, security, applications and support services, in addition to nationwide data and voice IP services. The company operates an extensive network including 28,000 route fiber miles, 90 metro fiber rings and 4 secure data centers providing ubiquitous IP coverage across more than 90 percent of the country. Founded in 1994, the company's award-winning reputation for both outstanding service and product innovation is supported by an experienced team of professionals focused on best-in-class customer care. For more information, visit EarthLink's website http://www.earthlink.net.
About Telarus
Telarus, Inc., a value added distributor that holds contracts with the world's leading commercial telecommunication carriers, makes it easier and more profitable for solution providers, VARs, telecom agent, and MSPs to sell and source voice and data WAN solutions. Our patented GeoQuote platform combines real-time carrier pricing with advanced research features and branded proposals. Telarus' experienced Sales staff is strategically focused on enterprise WAN and high-capacity bandwidth ethernet solutions, making it easier to find the best offer, every time. For its part, Telarus has been named the top Master Agent by the members of the Telecom Association in each of the past three years, the first and only company in the carrier channel to accomplish this feat. Whether you are a top producer or a voice-and-data expert just starting out on your own, there is a place for you in the Telarus community. For more information on the Telarus partner program, please visit http://www.telarus.com or call the new partner hotline at 877-346-3232.
###