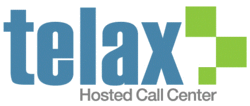 Athabasca (PRWEB) May 26, 2011
Athabasca University (AU) has signed a multi-year contract with Telax Hosted Call Center and consulting partner Rethink55 to streamline the educational institution's contact center modernization plan, the two firms announced on Wednesday.
"Rethink55 was a great partner in this project," said Telax founder and CEO Mario Perez. "We were very excited to get this chance to work alongside them in helping Athabasca University deploy a next-generation hosted solution."
Telax, the North American leader in hosted call center solutions, and Rethink55, a post-secondary Information and Communications technology firm, opted to collaborate in order to upgrade AU's student-services capabilities across several departments. Among those are AU's Information Centre, the Faculty of Business Student Support Centre, Academic Advising Services, and the University's internal help desk.
The initiative is an ongoing one for AU, which with over 37,000 students is one of Canada's largest providers of online post-secondary education and Canada's leader in distance learning. AU had previously relied on another hosted solution but felt the need to upgrade to Telax's more sophisticated platform in order to continue its leadership in the virtual education delivery space.
In addition to the Telax Call Centre platform, AU is currently implementing Telax's Workforce Management module, which allows organizations like AU to optimize staffers' work schedules and reduce caller hold times, among other features.
Rethink55's role is to assist in the transformation of a call centre platform into a multi-channel student service delivery mechanism. Rethink55 also provided AU with a long-term strategy to accommodate future technological upgrades within the school's contact centres and increase overall efficiency.
"We enable institutions to Architect their constituent Experiences, and with a great product partner like Telax, we are fully geared to take institutions to the next level by incorporating Telax within our GreyMatter Student Experience Suite of applications" said Rethink55's VP of Consulting Services, Shekar Kadaba. "We're a customer focused vendor agnostic firm, and Telax's solution proved to be the ideal one for AU to overcome the challenges related to delivery of Student Services and we're excited about applying this highly effective model to other educational institutions."
About Telax Hosted Call Center:
Telax Hosted Call Center is North America's leader in hosted call center solutions. Based in Toronto, Canada, Telax has been providing cloud-based business solutions to prominent public and private sector organizations since 1999. The simplicity delivered by Telax services enables clients like Best Buy, Northrop Grumman, Johnson & Johnson, CI Investments, the Globalive Group of Companies, Health Canada and the GSA, to reduce costs and improve efficiency, so that they can do more with their most critical resource: people. For more information, visit http://www.telax.com. For the latest Telax news, visit http://www.telax.com/category/news.
About GreyMatter:
GreyMatter is the student service offering of Rethink55, a Calgary-based information and communications technology consulting firm dedicated to architecting customer experiences through business focused technology solutions. By optimizing the student experience at every interaction touch point throughout the student lifecycle from Prospect to Alumni, Rethink55 has helped institutions achieve results such as access to over 350 additional prospective students each month and increased dollars from institutional fundraising efforts. For more information on GreyMatter, please visit http://www.rethink55.com/focus/greymatter/.
###