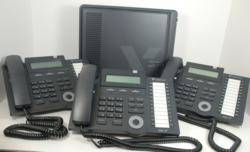 TelcoDepot.com now provides heavy industry companies and plants the facility to access requirements-optimized phone systems and VoIP solutions that are efficient, powerful and scalable as well as qualified technical support
Bay Shore, NY (PRWEB) May 22, 2012
Heavy industries can now benefit from the special TelcoDepot.com bulk purchase discounts and acquire essential phone systems and communication equipment for less, along with quality technical support and other benefits while also reducing acquisition, administration and management costs and boosting profits at the same time.TelcoDepot.com is a provider of business phone system equipment and services covering VoIP phones, VoIP service, hosted PBX service, PBX phone system equipment, telephone system accessories and more, including VoIP phone system support. Shop for leading phone system equipment from brands like Aastra, Allworx, Grandstream, NEC phone system products, TalkSwitch, Xblue and Yealink at affordable prices with great support options.
Heavy industries are high-capacity industrial production environments, and their large scope of operational activities gives them an equally large need for effective communication equipment and facilities. The very design of such heavy-industry complexes requires a multi-stage, multi-layer phone system deployment arrangement which takes into account the different communication requirements of each distinct unit of production or the various logistical and administrative departments.
From Intercom systems in each office to radio deployments for long-range off-base communication and satellite uplinks for Internet and voice connections to the outside world, the different types of required communications solutions for heavy industries can be dizzying and quite daunting for inexperienced contractors. What is needed to ensure success is a supplier with years of experience with complex industry-specific phone system installations and the expertise to design optimized solutions which deliver maximum value for minimum cost and risk.
TelcoDepot.com fits that description, and the new bulk purchase discounts for heavy industries creates the platform that they need to access not only low-price high quality solutions, but the expert technical know-how which the company offers.
The new TelcoDepot.com offer for heavy industries affords them the opportunity of acquiring quality high-end essential communications equipment including phone systems, VoIP service and security solutions that are specifically designed and optimized for their industry, providing a low-cost route to growth and expansion in the near future.
"TelcoDepot.com now provides heavy industry companies and plants the facility to access requirements-optimized phone systems and VoIP solutions that are efficient, powerful and scalable as well as qualified technical support and expertise at significantly reduced prices, while also allowing for marked growth in the near future and improving performance and productivity," says Yaron Ram, a TelcoDepot.com principal.
To learn more about the TelcoDepot.com special offering for heavy industry industries, including details on availability, pricing, discounts, systems and more, please call TelcoDepot.com support lines on 1-800-390-1200 or send an email to info(at)telcodepot(dot)com.
About Telco Depot
Telco Depot is a leading supplier of quality business telephone systems, business VoIP service, VoIP phones, phone headset equipment, video surveillance systems, voice & data cabling solutions, conference phone solutions and Microsoft Response Point Systems. The company's top priority is to help its clients make informed decisions based on their specific small business phone system needs by providing experience and expertise and guiding them in selecting the best phone systems for their businesses. Telco Depot ensures that their phone systems are fully scalable, affordable priced, and provide the highest value for their clients.