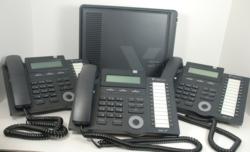 TelcoDepot.com provides its clients with solutions that are optimized for their business specifically
Bay Shore, NY (PRWEB) May 23, 2012
Construction businesses can now save significantly on bulk purchases of phone systems, VoIP service/hosted VoIP plans, access control systems, surveillance technology and more, with the new special bulk-purchase discounts from TelcoDepot.com. TelcoDepot.com is a provider of business phone system equipment and services covering VoIP phones, VoIP service, hosted PBX service, PBX phone system equipment, telephone system accessories and more, including VoIP phone system support. Shop for leading phone system equipment from brands like Aastra, Allworx, Grandstream, NEC phone system products, TalkSwitch, Xblue and Yealink at affordable prices with great support options.
Construction companies do everything on a large scale; bridges, towers, roads, dams, housing projects, sewage systems, waste water/flood control and more - each one a mega project requiring immense human and financial capital, as well as a rock-solid and perfectly synchronized coordinating team.
Work of this magnitude always hinges its success on a perfectly executed plan - all men, equipment and materials must work together in perfect harmony to produce the desired results, as a mismatch at any level can lead to fatal and catastrophic outcomes. Construction work depends on communication - and effective communication is a function of the availability of adequate and appropriate phone systems, VoIP/Internet technology, radio/intercom systems, and more, deployed as and at where needed.
With the special bulk-purchase discounts now available from TelcoDepot.com, businesses in the construction industry can take advantage and save cost significantly on bulk purchases of essential telecom equipment and Internet/VoIP service, while also enjoying quality technical support, at some of the lowest prices available anywhere.
"TelcoDepot.com provides its clients with solutions that are optimized for their business specifically - we design, implement and deploy solutions which consider factors that are unique to each business, ensuring they get the best offer possible which saves cost, removes redundancy, and makes their work more efficient and productive," says Yaron Ram, a TelcoDepot.com principal.
To learn more about the TelcoDepot.com special offering for construction companies, including details on availability, pricing, discounts, systems and more, please call TelcoDepot.com support lines on 1-800-390-1200 or send an email to info(at)telcodepot(dot)com.
About Telco Depot
Telco Depot is a leading supplier of quality business telephone systems, business VoIP service, VoIP phones, phone headset equipment, video surveillance systems, voice & data cabling solutions, conference phone solutions and Microsoft Response Point Systems. The company's top priority is to help its clients make informed decisions based on their specific small business phone system needs by providing experience and expertise and guiding them in selecting the best phone systems for their businesses. Telco Depot ensures that their phone systems are fully scalable, affordable priced, and provide the highest value for their clients.