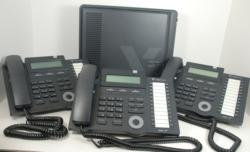 TelcoDepot.com has a mission to provide businesses with quality communication equipment and solutions that are optimized for their industry to reduce cost, improve efficiency, and boost performance and productivity
Bay Shore, NY (PRWEB) May 31, 2012
TelcoDepot.com now provides bulk purchase discounts on specialized VoIP solutions and phone systems for stockbroking firms. TelcoDepot.com is a provider of business phone system equipment and services covering VoIP phones, VoIP service, hosted PBX service, PBX phone system equipment, telephone system accessories and more, including VoIP phone system support. Shop for leading phone system equipment from brands like Aastra, Allworx, Grandstream, NEC phone system products, TalkSwitch, Xblue and Yealink at affordable prices with great support options.
Stockbroking firms have very complex telecom needs because telephony is essentially a backbone of their industry. This is because stockbrokers have an overwhelming need to maintain constant communication with their clients and agents, and this is usually done in real-time by telephone.
With a very high volume of daily incoming and outgoing calls, stockbroking firms need powerful phone system solutions and efficient internal networking to optimize this core activity in terms of cost reduction, scalability, availability, durability and ROI.
Cost reduction can only be guaranteed when proper requirements analyses are carried out to determine exactly what is needed in terms of phone systems and other equipment, and the best design for an internal phone system network that can handle current and future workloads. Expertise on the part of the chosen phone system contractor is a must if the outlined analyses are to be carried out correctly to ensure cost reduction.
Other factors such as scalability, availability and durability depend majorly on the design of the internal phone system network; VoIP is the leading solution for business telecommunications as it provides an efficient and scalable way to integrate business communications, while reducing downtime (ensuring availability as well as long-term durability), and significant ROI in the short term.
With the TelcoDepot.com bulk purchase discounts, stockbroking firms will be able to access superior phone systems, technical support and VoIP solutions which reduce cost and risk significantly while boosting efficiency and productivity.
"TelcoDepot.com has a mission to provide businesses with quality communication equipment and solutions that are optimized for their industry to reduce cost, improve efficiency, and boost performance and productivity. Our new bulk purchase discounts will help stockbroking firms benefit from solutions that positively impact their bottom-line while saving costs and reducing risks," says Yaron Ram, a TelcoDepot.com principal.
To learn more about the TelcoDepot.com special phone system bulk purchase discounts for stockbroking firms, including details on availability, pricing, discounts, systems and more, please call TelcoDepot.com support lines on 1-800-390-1200 or send an email to info(at)telcodepot(dot)com.
About Telco Depot
Telco Depot is a leading supplier of quality business telephone systems, business VoIP service, VoIP phones, phone headset equipment, video surveillance systems, voice & data cabling solutions, conference phone solutions and Microsoft Response Point Systems. The company's top priority is to help its clients make informed decisions based on their specific small business phone system needs by providing experience and expertise and guiding them in selecting the best phone systems for their businesses. Telco Depot ensures that their phone systems are fully scalable, affordable priced, and provide the highest value for their clients.