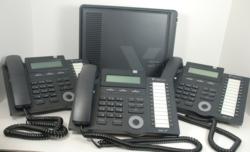 TelcoDepot.com provides phone systems and VoIP solutions that are optimized for the exact needs of subscribing department stores
Bay Shore, NY (PRWEB) May 02, 2012
Department stores can now benefit from the new TelcoDepot.com special phone systems offer which will allow them to access quality phone systems and VoIP solutions that are targeted for their business, while enjoying great technical support coverage and additional benefits. TelcoDepot.com is a provider of business phone system equipment and services covering VoIP phones, VoIP service, hosted PBX service, PBX phone system equipment, telephone system accessories and more, including VoIP phone system support. Shop for leading phone system equipment from brands like Aastra, Allworx, Grandstream, NEC phone system products, TalkSwitch, Xblue and Yealink at affordable prices with great support options.
Department stores can be very expansive, not to mention having many branches spread across the country. To support growth and effective communications, a truly optimized and dedicated phone system network is required. Such a network must consist of phone systems and equipment that are ideal for their respective applications as well as an integrating communications layer that provides a seamless union for the various connected systems for an overall optimized system.
Identifying phone systems and equipment that meet the needs of department stores to the letter requires expertise - the kind that can only be gained over years of experience installing phone systems for businesses of diverse sizes and industries. Beyond the right equipment, selecting the right communications platform such as VoIP can be very challenging, and would require a provider with the capacity and technical know-how to ensure that any selected installation that is not only optimized for the department store, but will also support future growth and generate significant ROI in the near future.
TelcoDepot.com is such a provider, and with the new special phone system offer, department stores can enjoy lower costs for phone systems as well as a VoIP solution that is remotely administered, saving costs and reducing stress.
"TelcoDepot.com provides phone systems and VoIP solutions that are optimized for the exact needs of subscribing department stores, offering holistic and affordable solutions that are impactful, cost-saving and stress-free since technical support is provided by TelcoDepot.com," says Yaron Ram, a TelcoDepot.com principal.
To learn more about the TelcoDepot.com special phone system offering for department stores, including details on availability, pricing, discounts, systems and more, please call TelcoDepot.com support lines on 1-800-390-1200 or send an email to info(at)telcodepot(dot)com.
About Telco Depot
Telco Depot is a leading supplier of quality business telephone systems, business VoIP service, VoIP phones, phone headset equipment, video surveillance systems, voice & data cabling solutions, conference phone solutions and Microsoft Response Point Systems. The company's top priority is to help its clients make informed decisions based on their specific small business phone system needs by providing experience and expertise and guiding them in selecting the best phone systems for their businesses. Telco Depot ensures that their phone systems are fully scalable, affordable priced, and provide the highest value for their clients.