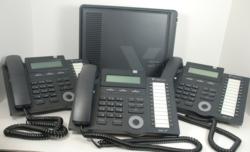 TelcoDepot.com provides phone systems and VoIP solutions that are built around the specific requirements of each client, and we also understand the needs and priorities of small businesses
BayShore, NY (PRWEB) May 09, 2012
Small offices can now enjoy high-end phone systems, as well as optimized VoIP service and dynamic support options for less from TelcoDepot.com. TelcoDepot.com is a provider of business phone system equipment and services covering VoIP phones, VoIP service, hosted PBX service, PBX phone system equipment, telephone system accessories and more, including VoIP phone system support. Shop for leading phone system equipment from brands like Aastra, Allworx, Grandstream, NEC phone system products, TalkSwitch, Xblue and Yealink at affordable prices with great support options.
Small businesses have growth at the very top of their priorities. Every small office startup dreams of having an entire campus one day where hundreds of staff can freely interact while enjoying very high productivity rates. To achieve growth, small businesses need to improve productivity while cutting all non-essential costs; they need to reduce operational costs to the barest minimum while doing their best to attract new customers and grow revenues.
This requirement usually dictates working on a barebones structure consisting only of what is needed to function - workstations, phone systems, Internet, fax, copier, power, and so on - no fancy furniture or unnecessary equipment. VoIP has been hailed as a miracle solution for small businesses, as it provides the capacity to unify operations and do more with less. Even at that, VoIP is not implemented in a stand-alone fashion; certain key equipment like VoIP phone systems, etc., need to be installed to arrive at fully functional and optimized communications infrastructures.
With the TelcoDepot.com offer for small offices, startups can now access affordable quality high-end VoIP phones and VoIP service options that are uniquely and adequately optimized for their work model, providing a low-cost route to near-term growth and expansion. With special discounts from TelcoDepot.com, small offices can now take advantage of the most powerful small business phone system and VoIP technology, while also enjoying quality support options, at some of the lowest prices available anywhere.
"TelcoDepot.com provides phone systems and VoIP solutions that are built around the specific requirements of each client, and we also understand the needs and priorities of small businesses – our small office solutions are efficient, powerful and scalable – accommodating substantial growth in the near-term while improving productivity and performance," says Yaron Ram, a TelcoDepot.com principal.
To learn more about the TelcoDepot.com special offering for small offices, including details on availability, pricing, discounts, systems and more, please call TelcoDepot.com support lines on 1-800-390-1200 or send an email to info(at)telcodepot(dot)com.
About Telco Depot
Telco Depot is a leading supplier of quality business telephone systems, business VoIP service, VoIP phones, phone headset equipment, video surveillance systems, voice & data cabling solutions, conference phone solutions and Microsoft Response Point Systems. The company's top priority is to help its clients make informed decisions based on their specific small business phone system needs by providing experience and expertise and guiding them in selecting the best phone systems for their businesses. Telco Depot ensures that their phone systems are fully scalable, affordable priced, and provide the highest value for their clients.