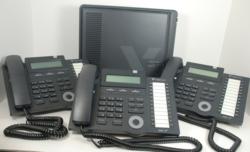 we also understand the needs and priorities of data centers – tough, reliable and resilient equipment which guarantee data availability and security even in the most critical conditions – and that is exactly what we are providing at discount rates to them
Bay Shore (PRWEB) May 17, 2012
Business VoIP solutions provider TelcoDepot.com has launched a special discount offer on phone systems and equipment for Data Centers. With the new offer, Data Centers can make bulk orders of essential items like networking equipment, battery backup units, VoIP phone systems, door and gate phones, access control systems, surveillance equipment, VoIP service and more from TelcoDepot.com at discounted prices, while also benefitting from qualified technical support, special administration and maintenance, expert cabling and installation assistance, and many other value-added incentives.TelcoDepot.com is a provider of business phone system equipment and services covering VoIP phones, VoIP service, hosted PBX service, PBX phone system equipment, telephone system accessories and more, including VoIP phone system support. Shop for leading phone system equipment from brands like Aastra, Allworx, Grandstream, NEC phone system products, TalkSwitch, Xblue and Yealink at affordable prices with great support options.
Data centers are essential in the world of big business - they provide businesses with continuity, as companies rely on their information systems to run their operations. Downtime is highly unacceptable in critical business operations because it can lead to loss of production and have a negative domino effect on connected systems and departments. Data centers guarantee the integrity and availability of hosted computer services at any time, and to do this, they require state of the art equipment that is rugged, durable, resilient and versatile - and these usually come with a heavy price tag.
The TelcoDepot.com offer will allow data center businesses to cut costs by purchasing essential equipment at much lower prices, also providing them with the flexibility they need to optimize their infrastructure, systems and productivity.
With the TelcoDepot.com offer, data centers can now enjoy affordable high-end equipment which can either serve as starter, advanced or replacement units for all aspects of their data center operations, while keeping purchase, installation, cabling, maintenance and administration costs at a minimum. TelcoDepot.com provides solutions that are uniquely and adequately optimized for their work model, providing a low-cost route to near-term growth and expansion.
"TelcoDepot.com provides phone systems and VoIP solutions that are built around the specific requirements of each client, and we also understand the needs and priorities of data centers – tough, reliable and resilient equipment which guarantee data availability and security even in the most critical conditions – and that is exactly what we are providing at discount rates to our data center customers," says Yaron Ram, a TelcoDepot.com principal.
To learn more about the TelcoDepot.com special offering for data centers, including details on availability, pricing, discounts, systems and more, please call TelcoDepot.com support lines on 1-800-390-1200 or send an email to info(at)telcodepot(dot)com.
About Telco Depot
Telco Depot is a leading supplier of quality business telephone systems, business VoIP service, VoIP phones, phone headset equipment, video surveillance systems, voice & data cabling solutions, conference phone solutions and Microsoft Response Point Systems. The company's top priority is to help its clients make informed decisions based on their specific small business phone system needs by providing experience and expertise and guiding them in selecting the best phone systems for their businesses. Telco Depot ensures that their phone systems are fully scalable, affordable priced, and provide the highest value for their clients.