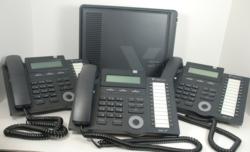 Having reliable phone system communications ensures that news items are promptly cleared for reporting and that the all-important news stories reach the public in the timeliest fashion
Bay Shore, NY (PRWEB) June 20, 2012
Business VoIP provider TelcoDepot.com has introduced a new custom VoIP offer for media houses designed to help them lower communications costs while improving the efficiency and capabilities of their communications networks. TelcoDepot.com is a provider of business phone system equipment and services covering VoIP phones, VoIP service, hosted PBX service, PBX phone system equipment, telephone system accessories and more, including VoIP phone system support. Shop for leading phone system equipment from brands like Aastra, Allworx, Grandstream, NEC phone system products, TalkSwitch, Xblue and Yealink at affordable prices with great support options.
Media houses are concerned with discovering and reporting news stories to the public. While the discovery component of their work may rely heavily on the strength of their global and local network of news agents, news partners and public feedback lines and services, the reporting component is heavily dependent on the technology available to them.
Modern broadcast equipment, as well as reliable VoIP video and web conferencing technology is a must if breaking news is to be reported in the timeliest fashion. Also reliable phone systems and network service need to be in place if clearance for news reporting is to be received in the shortest possible time. These are all functions of modern communications technology, which TelcoDepot.com can provide to media houses at lower costs and with minimum risk.
The principal aim of the new TelcoDepot.com custom VoIP offer for media houses is to provide them with an optimized VoIP solution consisting of phone systems and hosted VoIP service plans which are specifically designed to their unique requirements in order to cut costs and improve the productivity and efficiency of their communications.
"Media houses play a very important role in the dissemination of information to the public. Their work is of utmost importance and a key component of success in their industry is the capacity to find news on time and the ability to report it as soon as it is found. Having reliable phone system communications ensures that news items are promptly cleared for reporting and that the all-important news stories reach the public in the timeliest fashion. With our custom VoIP offer for media houses, we are providing a high-powered VoIP solution consisting of optimized phone systems and VoIP service options which guarantee reliable communications for lower costs," says Yaron Ram, a TelcoDepot.com principal.
To learn more about the TelcoDepot.com optimized VoIP service offer for media houses, including details on availability, pricing, discounts, systems and more, please call TelcoDepot.com support lines on 1-800-390-1200 or send an email to info(at)telcodepot.com.
About Telco Depot
Telco Depot is a leading supplier of quality business telephone systems, business VoIP service, VoIP phones, phone headset equipment, video surveillance systems, voice & data cabling solutions, conference phone solutions and Microsoft Response Point Systems. The company's top priority is to help its clients make informed decisions based on their specific small business phone system needs by providing experience and expertise and guiding them in selecting the best phone systems for their businesses. Telco Depot ensures that their phone systems are fully scalable, affordable priced, and provide the highest value for their clients.