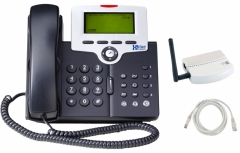 This is the first plug and play small office phone system. Start making and receiving phone calls within few minutes. Installing a phone system has never been easier, because the Xblue X-50 Wi-Fi telephone eliminates the need for telephone wiring
Bay Shore, NY (PRWEB) June 21, 2012
With the Xblue X-50 Wireless office solution from TelcoDepot.com, a user simply needs to connect each phone system to an X-50 Wi-Fi adapter to start using the system in true plug-and-play fashion, without the need for wiring, additional configuration or programming. TelcoDepot.com is a provider of business phone system equipment and services covering VoIP phones, VoIP service, PBX phone system equipment, hosted PBX service, telephone system accessories and more, including VoIP phone system support. Shop for leading phone system equipment from brands like Aastra, Allworx, Grandstream, NEC phone system products, TalkSwitch, Xblue and Yealink at affordable prices with great support options.
The X-50 Wi-Fi adapter eliminates the need for any IP telephone wiring, as one can use as many X-50 Wi-Fi adapters as there are X-50 phones on the system. The X-50 Wi-Fi adapter simply plugs into the Ethernet connection of an X-50 IP telephone, and since the X-50 server is also a wireless router, the X-50 Wi-Fi adapter immediately locates and synchronizes with the X-50 server.
In addition to wireless connection features which save installation/maintenance costs, human resources and time, the X-50 also comes with popular key system features including direct line appearances for up to 14 lines, place & retrieve held calls from an actual line button, up to 6 PSTN lines (plus 8 SIP trunk lines), analog port for fax machines or cordless phones and a 24-button modular DSS/BLF console.
Please contact TelcoDepot.com support for more information on available sales configurations (phone and adapter stand-alone units and/or phone/adapter bundles).
"This is the first plug and play small office phone system. Start making and receiving phone calls within few minutes. Installing a phone system has never been easier, because the Xblue X-50 Wi-Fi telephone eliminates the need for telephone wiring. This simplifies installation and reduces setup costs. The system is 100% wireless, so all that is required is to connect a Wi-Fi adapter to each one of the phones and you're good to go - just unpack, plug to the outlet, and start using! It's that simple with the Xblue X-50 wireless telephone system, now available from our online store at TelcoDepot.com," says Yaron Ram, a TelcoDepot.com principal.
For more about the Xblue X-50 wireless office phone system and adapter, including sales information, applications and benefits for businesses, please call TelcoDepot.com support lines on 1-800-390-1200 or send an email to info(at)telcodepot(dot)com.
About Telco Depot
Telco Depot is a leading supplier of quality business telephone systems, business VoIP service, VoIP phones, phone headset equipment, video surveillance systems, voice & data cabling solutions, conference phone solutions and Microsoft Response Point Systems. The company's top priority is to help its clients make informed decisions based on their specific small business phone system needs by providing experience and expertise and guiding them in selecting the best phone systems for their businesses. Telco Depot ensures that their phone systems are fully scalable, affordable priced, and provide the highest value for their clients.