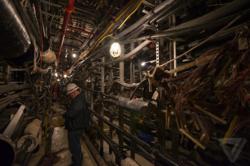 Telco Experts was able to restore PRI and POTS telephone service...resulting in a solution for inbound and outbound voice services
Manhattan, NY (PRWEB) December 13, 2012
Customers throughout downtown New York lost their main connection to the outside world when several Verizon central offices were devastated by flooding from Superstorm Sandy affecting voice and internet services.
When electricity was restored on November 5th to Telco Experts offices at 120 Broadway, they began around the clock monitoring and updating of the situation and walked the sites each day to talk to Verizon employees working on the site for ground level information to relay to customers.
When it was clear that services may not be restored to some carriers for months, Telco Experts sourced a solution for customers with a live internet connection through an alternate carrier.
Telco Experts was able to configure and ship on-premise devices within 48 hours to plug into the customers phone system in order to restore PRI and POTS telephone service, then emergency forward phone calls to the new connection resulting in a solution for inbound and outbound voice services.
Customers serviced out of the 75 Broad street central office remain affected as Verizon declared on November 7 a "catastrophic loss of site" and stated "transport equipment in basement destroyed."
David Sacks of GSM Systems at 40 Fulton St. said, "This could have been devastating to our business. We will definitely be keeping this solution in place as part of our business continuity plan going forward." Customers in the Financial District and Battery Park remain affected and there is no confirmed timetable from some of the carriers to restore services completely.
About Telco Experts:
Telco Experts is a private Voice and Data provider designed to meet the needs of local and international business clients seeking quality communication products and the reliability of premier network services.
# # #
For more information, or to schedule an interview please call Patrick Dial at 212-452-6028 or email pdial(at)telcoexperts(dot)com