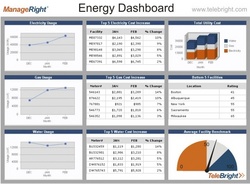 Realizing the volume of off-shoring that is currently required for U.S. businesses to remain competitive, TeleBright began development for international currency in 2007
ROCKVILLE, Md. (PRWEB) March 10, 2008
ManageRight 3.0 will calculate international currency rates within the system. This version supports every global currency in the marketplace. The system will intake international invoices, validate payments, and apply the correct currency for payment. International businesses will no longer need an internal translation for their billing requirements.
"With TeleBright's ability to provide multi-national currency translation and management, and our ability to provide operational support, streamline processes, and implement expense reduction strategies we can expand to the global marketplace," said Marko Spremo of Accucom.
ManageRight 3.0 will assist businesses to make informed decisions about their utility options, utility options that were not previously available 10 years ago. The system monitors, predicts and analyzes market conditions. It will also suggest optimization improvements to reduce costs. Just as the platform has offered vital assistance with telecom expense management (TEM) for years, it can now offer those same efficiencies to the entire enterprise for all monthly energy expenses. This equates to a more informed business that can begin a journey to conserve and save resources.
Recent client surveys conveyed a strong desire for businesses to better organize and better control every aspect of their expenses not just telecom. TeleBright has traditionally operated as a TEM company but felt it was time to expand and grow the base component.
"We expect to see benefits from this new release as we centralize the management of our telecom cost for our service offices and manufacturing locations," said Randy Carnahan, Telecom Director, Hill-Rom. "We are pleased to see the addition of inventory and invoice processing capabilities for electricity, gas, and water in ManageRight 3.0 where we have traditionally managed only our telecom expenses."
"Realizing the volume of off-shoring that is currently required for U.S. businesses to remain competitive, TeleBright began development for international currency in 2007," said Chet Thaker, CEO, TeleBright Software Corporation. "The utility expansion has been in our plans for a long time but with the increases in energy demands we placed the effort as a top priority. This enhancement will empower businesses to see their energy conservation efforts and measured savings, just as they have with their telecom."
ManageRight 3.0 Features:
-- International currency listings with multiple viewing options.
-- Supports every global currency in the marketplace.
-- Management and optimization for telecom, electric, and gas expenses.
Available as a managed service or as licensed software. The solution is modular and specific options can be added or removed to best serve business requirements.
About TeleBright Software Corporation:
Developing software solutions since 1988, TeleBright offers an integrated cost and resource savings system for telecom, electricity, gas, and water utilities. The solution has proactive notifications for the entire enterprise and policy enforcement tools. The business line continues to evolve with the industry supporting small and large businesses, as well as the federal government. TeleBright is based in Rockville, Maryland. For more information visit: http://www.telebright.com.