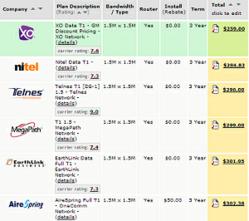 Even though we were a little ahead of our time, our partners today wouldn't dream of trying to sell transactional products with the speed and efficiency GeoQuote brings to the table.
Sandy, UT (PRWEB) October 09, 2012
Telarus Inc., the premier telecom master agent and patent holder of real-time carrier quotes, today announced that its GeoQuote software has produced its 1,000,000th price quote. GeoQuote is the online platform Telarus developed for its partners to check broadband and telecom service pricing from over 40 carriers nationwide.
"Reaching the 1,000,000th real-time quotes milestone is a testament to the value we are providing our partners and suppliers," commented Adam Edwards, president of Telarus, Inc. "Not only is the software the only one of its kind in the industry, its showing with all clarity the value of obtaining information in real-time from the phone companies. We are proud to be able to connect our partners and suppliers together and to help each side work with the other in a more efficient and profitable way."
GeoQuote, originally created and patented in 2003 by Telarus, Inc., can quote the more transaction products offered to business by carriers; products like Data T1, PRI, Ethernet over Copper, Cable Internet/voice/TV, and more.
"When we originally pioneered the GeoQuote platform almost ten years ago, people in the telecom world didn't immediately see the value since they were used to quoting every single opportunity manually, by hand," added Patrick Oborn, VP of Business Development for Telarus. "Even though we were a little ahead of our time, our partners today wouldn't dream of trying to sell transactional products with the speed and efficiency GeoQuote brings to the table."
To determine carrier pricing, GeoQuote uses a combination of methods:
*Direct XML-API communication with the carrier's availability and pricing systems
*Geo-mapping / GIS
*Database standardization to calculate the exact distance from a user's location to the location of the nearest vendor's POP, or Point of Presence
"In the past few years we've invested heavily in a partner support team that is here to assist our partners with complex and higher-end pricing requests," said Andrew Morgan, VP of Operations for Telarus. "However, even with the human touch, GeoQuote continues to add a tremendous amount of value and convenience when our partners do have the need to generate a quick price quote and proposal for their clients."
GeoQuote continues to have an error rate of less than 2%, making it one of the most trusted platforms in the industry. If you are interested in taking advantage of the GeoQuote platform, please contact Justin Chugg at (877) 346-3232 for more information.
About Telarus
Telarus, Inc., a value added distributor that holds contracts with the world's leading commercial telecommunication carriers, makes it easier and more profitable for solution providers, VARs, and MSPs to sell and source voice and data WAN solutions. Our patented GeoQuote platform combines real-time carrier pricing with advanced research features and branded proposals. Telarus' experienced Sales staff is strategically focused on enterprise WAN and high-capacity bandwidth solutions, making it easier to find the best offer, every time. For its part, Telarus has been named the top Master Agent by the members of the Telecom Association in each of the past three years, the first and only company in the carrier channel to accomplish this feat. Whether you are a top producer or a voice-and-data expert just starting out on your own, there is a place for you in the Telarus community. For more information on the Telarus partner program, please visit http://www.telarus.com or call the new partner hotline at 877-346-3232.