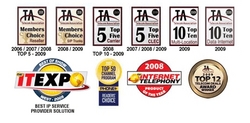 This SMB product delivers both voice and data over a single low cost circuit, minimizing the cost and complexity of business communications.
Las Vegas, NV (PRWEB) March 2, 2010
Channel Partners Expo - AireSpring, an award winning and recognized leader in VoIP/SIP Trunking products, today announced the release of their new integrated analog voice and data product "Dynamic X SMB." Available nationwide across the widest footprint in the industry, AireSpring Dynamic X SMB targets small to medium sized businesses looking to lower costs and decrease the complexity of their networks. Dynamic X SMB provides dynamic voice and data over a single circuit. The product includes free PBX features such as auto attendant, conference calling (up to 100 users), visual voicemail, 3-way calling, find-me-follow-me, and over two dozen other features. This solution offers maximum features and flexibility at the minimum price.
When introducing AireSpring's new Dynamic X SMB to the Channel Partners Conference & Expo in Las Vegas, AireSpring COO, Daniel Lonstein noted, "We are so excited to bring the features and flexibility of our next generation IP network to business customers with analog phone lines. This SMB product delivers both voice and data over a single low cost circuit, minimizing the cost and complexity of business communications. Our advanced network design enables us to provide superior power, features, flexibility and network redundancy at minimum cost to our customers. In addition, we are bringing some of the most advanced features of IP telephony to the small business user. For example, with Personal Virtual Phone Numbers and Unified Visual Voicemail, a customer can have a single unified voicemail for all of their work, mobile and even home phone numbers."
"Small to medium sized businesses are finally able to get all the bells and whistles they are looking for in one easy to use product." Stated AireSpring Senior Vice President of Marketing, Todd Regan. He continued, "The features include: High Speed Internet, affordable Local and Long Distance phone service, a full featured Auto Attendant, Personal Virtual Phone Numbers, and all the key phone features (such as call waiting, caller ID, Forwarding, etc.) that a customer could ever want. With Dynamic X SMB, customers will always be in touch with Find-Me-Follow-Me call routing and virtual phone numbers which allow you to give every employee in your company their own phone number! Best of all, the entire package of features is completely customizable, by each user, via our online management portal."
AireSpring has gained recognition as one of the most dynamic providers in the cutting edge IP space. AireSpring has been awarded the coveted Telecom Association "Members Choice" award for SIP Trunking, Technology Marketing Corporation (TMC)'s best in show for IP communication, and numerous awards and accolades for the complete suite of Voice, Data, and Internet solutions.
For more information on AireSpring LD and other products, visit http://www.AireSpring.com
About AireSpring:
Headquartered in Los Angeles, award winning AireSpring is one of the fastest growing telecommunications carriers in the USA, with over 4 billion call records processed every year. AireSpring is a privately held, diversified, debt-free, and full service communications company which offers a broad range of innovative telecommunications services at competitive rates.
AireSpring offers next-generation voice, data, integrated, SIP/VoIP, and conferencing products designed to deliver power and flexibility at cost-effective rates. AireSpring has been named, "Product of the Year," "Best Telecom Deal," "Members Choice top reseller," "Best In Show," and "Top Channel Program." To find product information, rates, or become an agent or reseller, please visit http://www.AireSpring.com or contact Todd Regan at (818) 786-8990, ext 374.
###