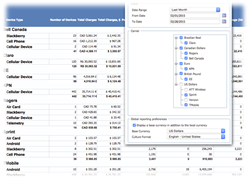 ...enhancements include the ability to view domestic and native currency values for line items, side-by-side, to simplify comparison across the enterprise for more meaningful insight and better telecom management decisions
Huntington Station, NY and Orlando, FL (PRWEB) March 16, 2015
March 16, 2015 – Comview announced today, at Enterprise Connect in Orlando, that it has further expanded the Wireless Mobility Management (WMM) capabilities of its Integrated Telecom Management platform. Enhanced international management and reporting features give North American enterprises valuable insight and control over their global wireless telecommunications operations.
As mobility continues to take on a greater role in business, companies with global operations are finding it increasingly complex and difficult to manage the growing mobile workforce within their ranks. Centralizing the management and reporting of wireless invoices, users, and assets, can yield significant financial and operational advantages for organizations. But doing so can be challenging without the right resources and technology.
Comview made the enhancements to its time-tested wireless management platform to improve the value and overall experience for its global customers in North America. Expanded currency conversion and localization features allow enterprises to select a preferred currency to normalize reporting of multinational telecom invoice data.
Other reporting enhancements include the ability to view domestic and native currency values for line items, side-by-side, to simplify comparison across the enterprise for more meaningful insight and better telecom management decisions.
Comview has also grown its international wireless billing support to pull invoice data from more than 145 mobile carriers in 45 countries into its integrated cloud-based platform.
"Our global telecom experience goes back more than a decade as a provider of international call accounting to Global North American companies," said Comview CEO and Founder, John Perri, "Over the years, we've expanded that to our mobility customers as we continuously work to improve our capabilities to meet their needs and expectations."
To learn more, visit Comview in booth 224 at Enterprise Connect, or on the Web at http://www.comviewcorp.com.
About Comview Corporation
Comview provides fully integrated telecom expense management (TEM), wireless mobility management (WMM) and call accounting solutions backed by industry-leading customer service. The company's cloud-based, unified software suite allows companies to easily manage all telecom usage and assets from a single intuitive interface, including: Invoice Management, Wireless Management (with BYOD and MDM integration), Audit & Optimization, Call Accounting, IT Asset Management, Procurement and more. A managed service/BPO approach and "customer for life" philosophy provides customers with the highest level of service and support and sustainable ROI. Comview's services are used by major organizations throughout the U.S. and abroad. For additional information, visit Comview at http://www.comviewcorp.com.