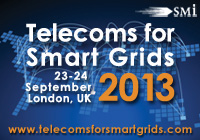 London, UK (PRWEB UK) 2 May 2013
Information and communication technologies are an integral part of Smart Grid development, as they provides capabilities such as supporting two-way energy and information flow, isolating and restoring power outages more quickly, facilitate integration of renewable energy sources and provides consumers with options to optimise their energy use.
Against this backdrop, SMi's 3rd annual Telecoms for Smart Grids conference will focus on all communications aspects that are relevant to the Smart Grid and will bring together experts from UK and European Utilities, Government and leading communication technology authorities. The two-day event will provide the perfect platform to exchange novel ideas, explore enabling technologies, discuss innovative designs, and share field trial experiences and lessons learnt for future communications projects.
Key Speakers at Telecoms for Smart Grids 2013 include:
Ashley C. Brown, Counsel to Greenberg Traurig, and Executive Director Harvard Electricity Policy Group, Harvard University
David Ross Scott, Industry Relationship Manager, Scottish Power
Denis O'Leary, Head of Smart Energy Technologies, ESB
Gordon Hewitt, ICT Project Manager, Scottish and Southern Energy
Marcus Smith, Solutions Architect, Cisco
Markus Hofsaess, Technology & Solutions, E.ON
Tim Manandhar, Low Carbon Solutions Design Manager, UK Power Networks
Erik Moll, Telecom Policy Advisor, Alliander
Giovanni Coppola, Innovation Manager, Enel Distribuzione SpA
Gunnar Hoffman, Manager of Technology Corporate R&D, RWE AG
Milo Broekmans, Senior Enterprise Architect, Stedin
Nigel Bessant, Project Delivery Manager, Scottish and Southern Energy
Sanna Atherton, Senior Project Manager, Western Power Distribution
For more information, visit http://www.smi-online.co.uk/2013telecomsforsmartgrids8.asp. Alternatively, contact Aaron Jackson on tel: +44 (0) 20 7827 6064 or email ajackson(at)smi-online(dot)co(dot)uk.