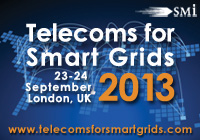 London (PRWEB UK) 14 May 2013
Driving operational efficiency for ageing infrastructure, carbon reduction, and lower energy consumption are top priorities for today's Utilities. The communications network will need to not only facilitate advanced control and monitoring, but also support additional generation, transmission, marketing and service provisions. In addition to ensuring a flexible and secure network, M2M communication will be a key component of the Smart Grid, as a means to deploy wide-scale monitoring and control.
Against this backdrop, SMi's 3rd annual Telecoms for Smart Grids conference will feature M2M leaders, connectivity providers, utilities and Government officials leading the European low carbon initiative who will provide insight into emerging communications technology, requirements for metering, methods of coping with increasing demand, data communications and monitoring and control initiatives.
New for Telecoms for Smart Grids 2013:

Hear nine European and UK utility case studies on connectivity challenges and deployments
Understand communications selection criteria
Why certain European Utilities have decided to deploy their own private mobile network based on CDMA-450
Gain insight into interoperability challenges in metering and Smart Grid deployment
What key issues need to be considered around data communications, security and privacy
Future Smart Grid applications – what are they and how will they be deployed?
For more information, visit http://www.smi-online.co.uk/2013telecomsforsmartgrids8.asp
Alternatively, contact Aaron Jackson on tel: +44 (0) 20 7827 6064 or email ajackson(at)smi-online(dot)co(dot)uk