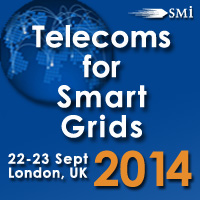 What will we need to expect in terms of future regulation
London, Southwark (PRWEB UK) 9 May 2014
Future developments including the onset of M2M communications technology with challenges and risks in delivering fit-for-purpose, secure telecoms systems will be examined in this highly-focused event. This year will bring leading utilities, government and communication technology authorities for an in-depth discussion on current pilot projects, challenges and solutions.
The Data and Communications Company will be speaking at this years' Telecoms for Smart Grids conference to provide steps to overcome smart metering telecommunication challenges.
Highlights from the keynote presentation entitled: The DCC: Update on the current communications network status, will include:

Challenges that still need to be overcome
What will we need to expect in terms of future regulation
SMi's 4th annual Telecoms for Smart Grids conference will address the current development of both UK and European communications infrastructures for smart grid development and metering deployment, data communication infrastructure and integration, substation automation, distribution network upgrades, and business process management. For the UK key market developments will be addressed with contributions from both the Department for Energy and Climate Change and the Data Communications Company.
A snapshot on who will also be speaking at this years' event: ZigBee Alliance | E.ON | Data Communications Company | Scottish and Southern Energy | DECC | Echelon Energy and Utility | ESB plus many more.
To download a brochure visit http://www.telecomsforsmartgrids.com.
For more information and full programme details, please visit:
4th annual Telecoms for Smart Grids
22-23 September, 2014
Marriott Regents Park Hotel, London, UK
http://www.telecomsforsmartgrids.com
About SMi Group
Established since 1993, the SMi Group is a global event-production company that specializes in Business-to-Business Conferences, Workshops, Masterclasses and online Communities. We create and deliver events in the Defence, Security, Energy, Utilities, Finance and Pharmaceutical industries.
We pride ourselves on having access to the world's most forward thinking opinion leaders and visionaries, allowing us to bring our communities together to Learn, Engage, Share and Network. We hold events in over 30 major cities throughout the world including London, Paris and Singapore and to date have welcomed over 200,000 participants from 80 countries.
More information can be found at http://www.smi-online.co.uk.