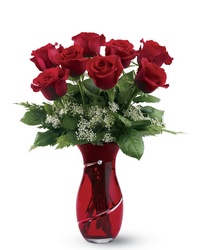 LOS ANGELES (PRWEB) January 28, 2008
So, how do we determine what is the best way to express how we feel about that special person in one's life? The Teleflora survey found that:
-- 46 percent of men consider roses as the best gift to give on Valentine's Day.
-- When given a list of the best Valentine's Day gifts to receive, women selected roses as the best gift to receive (32 percent); diamond jewelry as the second best gift (29 percent); jewelry other than diamonds as the third best gift (26 percent); roses other than flowers as the fourth best gift (24 percent).
-- When given a list of what men would want to give their significant other on Valentine's Day, 53 percent selected roses, followed by flowers other than roses at 39 percent, and 34 percent of men would give jewelry and 26 percent of men would specifically give diamond jewelry to their loved ones this Valentine's Day.
The expert florists at Teleflora offer men exactly what women want to make this year's romantic day even more special. Teleflora has been designing keepsake flower arrangements for the past 70 years, so they provide their florists exactly what their customer's desire. This year, they are upping the stakes with an unprecedented Diamonds and Roses sweepstakes that began January 14 and continues through February 29.
Every time a Teleflora florist fills an order for either the Diamonds and Roses Bouquet available at $59.95 or the Diamond Cut Bouquet available for $99.95 on Teleflora.com, a game piece with an entry code will be included. Customers will be directed to DiamondsandRoses.com where they register and enter the PIN code from the front of the game piece and submit their information to see if they have instantly won one of 1,000 diamond pendant necklaces, valued at $149 from Zales Jewelers. All registrants are then automatically entered into the grand prize drawing for a beautiful pair of white gold, round-cut diamond earrings, with a retail value of $50,000. The lucky winner will be contacted via phone on or around March 15.
Consumers who don't purchase the Diamonds and Roses Bouquet or Diamond Cut Bouquet will still have a chance to enter the Diamonds and Roses sweepstakes by logging onto DiamondsandRoses.com and mailing in a request for a game piece.
For more information on Teleflora's exciting Diamonds and Roses sweepstakes and how you can enter, please visit DiamondsandRoses.com or call 310.966.8328.
About Teleflora
Teleflora is the world's leading floral service offering the best choice in floral arrangements and convenient local delivery. Headquartered in Los Angeles, California, Teleflora has approximately 25,000 member florists throughout the U.S. and Canada, with an additional 20,000 affiliated florists outside North America. Teleflora offers industry-leading floral arrangements and gifts, technology, marketing and education services. Through its extensive member florists' network, Web sites including http://www.teleflora.com and http://www.findaflorist.com, and its toll-free line 1-800-TELEFLORA, the company offers consumers fast, convenient and high-quality flowers and keepsake products.
Survey methodology
This diamonds and roses survey was conducted online within the United States by Harris Interactive on behalf of Teleflora between January 7 and 9, 2008 among 2,025 U.S. adults aged 18 and over. Results were weighted as needed for age, sex, race/ethnicity, education, region and household income. Propensity score weighting was also used to adjust for respondents' propensity to be online.
All sample surveys and polls, whether or not they use probability sampling, are subject to multiple sources of error which are most often not possible to quantify or estimate, including sampling error, coverage error, error associated with nonresponse, error associated with question wording and response options, and post-survey weighting and adjustments. Therefore, Harris Interactive avoids the words "margin of error" as they are misleading. All that can be calculated are different possible sampling errors with different probabilities for pure, unweighted, random samples with 100% response rates. These are only theoretical because no published polls come close to this ideal.
Respondents for this survey were selected from among those who have agreed to participate in Harris Interactive surveys. The data have been weighted to reflect the composition of the U.S. adult population. Because the sample is based on those who agreed to be invited to participate in the Harris Interactive online research panel, no estimates of theoretical sampling error can be calculated.